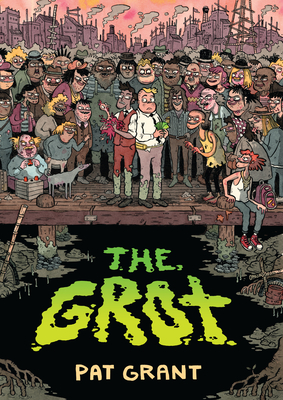 The Grot
The Story of the Swamp City Grifters
Paperback

* Individual store prices may vary.
Description
"Anyone willing to get filthy can also get rich." In this dystopian swamp city, two brothers find that opportunity and exploitation lurk around every corner. But who's smarter: the hordes of people rushing to move in, or the equal horde desperate to leave?

Penn and Lipton Wise have set out to Falter City to make their fortune. It's the future, obviously, and things are pretty grim. The Australian landscape is traumatized. Plague is rampant. Machines only work as well as the poor sod pedaling them. Things are hotter and wetter than they used to be, giving the whole place the vibe of a sweaty armpit.

Lippy and Penn are hoping to set up shop in this grimy boom-town, but they've got to stay frosty, because it's teeming with hustlers, swindlers, and scoundrels. It's the sort of place where a lucky moron could make an outrageous fortune in an afternoon and lose it all before bedtime. The sort of place where two enterprising teenagers could really make something of themselves. Or so they say.

In his follow-up to the critically acclaimed Blue, Pat Grant confirms his reputation as "the Australian Mark Twain" (Craig Thompson, author of Blankets and Habibi) with a page-turning graphic novel about economic inequality, desperation, and the gambler's addiction to hope even in the worst of times.
Praise For The Grot: The Story of the Swamp City Grifters…
"The Grot has the makings of a true Australian classic. As absurdly funny as it is disturbingly realistic." — Shaun Tan, Author of The Arrival

"A twisting plot and a seething, filthy world thread together in these hand-made pages, each one a work of art and some so beautiful they take my breath away. The Grot is comics magic in its purest form." — Thi Bui, Author of The Best We Could Do

"A pus-filled adventure full of tricks, likes, and scams. A comic so disgusting that you can SMELL IT!" — Campbell Whyte, Author of Home Time

"Grant develops this grotty world and its particulars steadily and surely, and it becomes impossible not to root for the brothers as they fall prey to con artists and a city without pity." — Library Journal

"A timely quarantine read imagining Australian life in a climate-ravaged world... For a story written long before the COVID-19 pandemic, some of The Grot's ideas feel eerily of the moment." — ABC Arts News
Top Shelf Productions, 9781603094665, 200pp.
Publication Date: June 23, 2020
About the Author
Pat Grant is a renowned cartoonist from Melbourne, Australia. His work has appeared in Meanjin, Going Down Swinging, and The Lifted Brow, as well as in magazines such as Artlink, Australia's Surfing Life, and Tracks -- but all of the best stuff comes out in his zine called Lumpen. He is the recipient of an Emerging Writers Grant from the Australia Council for the Arts. His other comics include "The Last Sharehouse" and "Waiting for Something to Happen." His first graphic novel, Blue, was listed as one of the great graphic novels of 2012 by the US culture journal Salon.