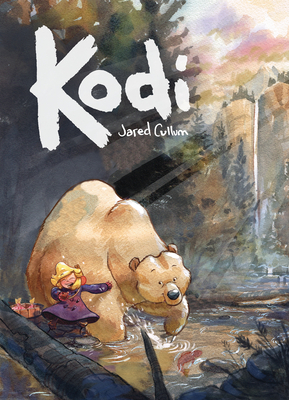 Kodi (Book 1)
Paperback

* Individual store prices may vary.
Description
The gorgeous story of two friends separated by everything in the world -- except love. Readers and animal-lovers of every age will want to relive this journey over and over again.

Katya and her Meema are spending another summer at their cottage in Alaska, when a chance accident leaves Katya face-to-face with the biggest creature she's ever seen... an enormous kodiak bear with a gentle heart and a knack for fishing. But when Katya must suddenly return home to Seattle, the two are torn apart, leaving Kodi to do whatever it takes to reunite with his fragile human friend. It's a wild journey packed with breathtaking views, brave new companions, and adventure around every turn.
Praise For Kodi (Book 1)…
"Jared Cullum brings to Kodi a fresh watercolor style that's brimming over with personality. His characters come alive in their world, and they'll convert a casual reader into a devoted fan." — James Gurney, creator of Dinotopia

"Kodi is the perfect combination of an exciting adventure and a heartwarming tale of friendship. Jared's exquisitely painted pages bring his characters to life and invite you to get lost in the gentle embrace of this wonderful story. Even though Kodi doesn't say a word, Jared uses every brush stroke to delicately communicate his very real emotions. I absolutely love Kodi and you will too!" — Andy Runton, creator of Owly

"Cullum's rich watercolors... capture Alaskan wilderness and Seattle's urban grit with equal beauty and accuracy... Beautifully crafted, thoughtfully paced, and sweet as can be, this tale is ideal for reluctant and voracious readers alike, to be savored and shared between friends young, old, and in between." — School Library Journal (starred review)
Top Shelf Productions, 9781603094672, 176pp.
Publication Date: August 25, 2020
About the Author
Jared Cullum was born in 1985 in Johnson City, TN. He is a cartoonist-writer and painter of things living in Pittsburgh, PA with a deep passion for connecting with people through visual story-telling. Between developing stories he teaches traditional painting and anatomy and spends his days exploring the lessons that can be learned from 19th century painting and how they can be used to innovate in story-telling. He has also written and painted stories for Boom!-Archaia and Jim Henson Productions working on titles such as: Planet of the Apes, Labyrinth, Fraggle Rock, and Storyteller.