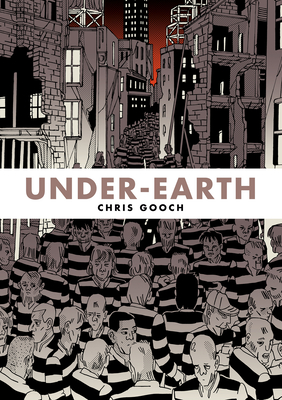 Under-Earth
Paperback

* Individual store prices may vary.
Description
The inmates of an extensive underground prison struggle to build meaningful lives in a broken system, in the most ambitious graphic novel to date from rising indie star Chris Gooch (Bottled and Deep Breaths).

Under-Earth takes place in a subterranean landfill, hollowed out to serve as a massive improvised prison. Sunken into the trash and debris of the past -- gameboys, iphones, coffee cups, old cars -- we follow two parallel stories.

In the first, a new arrival struggles to adapt to the everyday violence, physical labour, and poverty of the prison city. Overwhelmed and alone, he finds a connection with a fellow inmate through an old, beat-up novel. While these two silent and uncommunicative men grow closer thanks to their book, the stress of their environment will test their new bond.

Meanwhile, a pair of thieves pull off a risky job in exchange for the prisons' schematics and the promise of escape -- only to be betrayed by their employer. On the run with their hope for escape now gone, the two women set their minds to revenge. Yet as they lay their plans, their focus shifts from an obsession with the outside world to the life they have with each other.

Equal parts sincerity and violence, Under-Earth explores humanity's inextinguishable drive to find meaning, connection, and even family -- and how fragile such constructions can be.
Praise For Under-Earth…
2021 Best Graphic Novels for Adults - American Library Association

"Gooch builds to a brutal climax before offering a deeply tender, legitimately moving denouement... A perfectly paced page-turning meditation on the possibility of grace from a creator who grows more impressive with every release." — Library Journal (starred review)

"The hyper-grim focus amplifies the significance of every act of kindness, making those moments surprisingly moving. Told with superb rhythm, this pitch-perfect thriller gets dystopia down right." — Publishers Weekly

"Elevated by Gooch's spare, evocative artwork, Under-Earth is an expertly crafted, at times meditative, thriller that will have you on tenterhooks as you follow the protagonists' attempts to survive a brutal dystopian system with their humanity somehow intact." — Sonny Liew, author of The Art of Charlie Chan Hock Chye
Top Shelf Productions, 9781603094771, 560pp.
Publication Date: November 10, 2020
About the Author
Chris Gooch (b. 1993) is a cartoonist based out of Melbourne, Australia. His first graphic novel, Bottled, was published in 2017, followed by Deep Breaths, a short story collection, in 2019. He recently won the Lord Mayor's Creative Writing Prize for "Mooreland Mates," one of the short stories collected in Deep Breaths, and a Ledger Prize for Bottled.