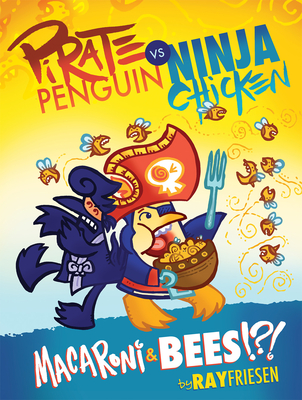 Pirate Penguin vs Ninja Chicken Volume 3
Macaroni and Bees?!?
Hardcover

* Individual store prices may vary.
Description
You're telling me this pirate is a penguin?? That's not all, buddy. This ninja... is a chicken. And in their THIRD ridiculous book together, they're even funnier than ever!

Your favorite Flightless Fighting Friends, those Bouncy Battle Birds are back! In fact, they never left! They've been standing right behind you this whole time! But in a fun way, not a creepy way. Don't turn around. Or do! I'm not the boss of you.

Pirate Penguin vs Ninja Chicken (Book Three): Macaroni and BEES?!? contains:

— A big pile of random comics on important topics such as werewolf shampoo, frivolous time travel, and anti-gravity popcorn
— Absolutely no Macaroni OR Bees
— The Top Secret Long Lost origin story of Pirate Penguin (hint: he's probably from space)
— AND finally, after all this time, the ultimate versus, to decide who will win the friendship once and for all! (hint: Ninja Chicken)

Also! As a bonus, using state of the art inflatable-origami-technology, this book can transform into over 8 types of hats, to help you express your entire personality through headgear, the Pirate Penguin Way. Note: any folding or inflating of this book may cause it to get ruined forever, but it's totally fine, don't worry about it.
Top Shelf Productions, 9781603094979, 64pp.
Publication Date: September 21, 2021
About the Author
Ray Friesen has often been described as 'History's Greatest Champion', and although this is almost certainly hyperbole, we won't know for sure until history is finished. Ray Friesen is best known for being silly all the time, despite his doctor's repeated warnings. Ray Friesen grew up in a hot air balloon anchored above Tehachapi, California, and now lives in the world's tiniest house, only two square feet, in Eugene, Oregon. He plans on living in a third place, possibly, someday, he'll tell you all about it in his next author biography. Ray Friesen has both glasses, and a mustache, it's all part of an elaborate heist Ray is planning. Okay, actually, Ray is secretly very normal. Too normal actually. Ray has a wife (Michelle) and a son (Wellington) who are exceedingly cute. Ray is pretty good at cooking. Ray has drawn over 9,000 penguins, 3,000 dinosaurs, and zero helicopters. Ray cannot be stopped.