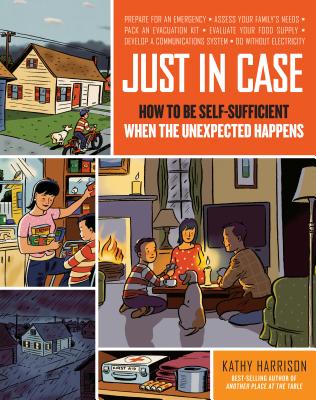 Just in Case (Paperback)
How to Be Self-Sufficient When the Unexpected Happens
Storey Publishing, LLC, 9781603420358, 240pp.
Publication Date: July 23, 2008
* Individual store prices may vary.
Description
If disaster strikes and public services are limited, you want to know that your family will be taken care of. Learn how to inventory and rotate your food supply, pack an evacuation kit, maintain communication with loved ones, and much more. You'll soon gain the ingenuity and resourcefulness to get your family through even the most unfortunate circumstances.
About the Author
Kathy Harrison is the author of Prepping 101 and Just In Case, as well as Another Place at the Table and One Small Boat. She is a national spokesperson, touring and giving lectures, for both family preparedness and foster parenting. She has appeared on The Today Show, Oprah, National Geographic's Doomsday Preppers, and in NPR interviews. She lives with her family in western Massachusetts.
Praise For Just in Case: How to Be Self-Sufficient When the Unexpected Happens…
With the assumption that "many of us have a false sense of security... assuming that technology will prevail or that some government agency will bail us out in a crisis," this extensive guide gives detailed, down-to-earth advice on what to do when disaster strikes, be it a house fire, an ice storm or biological terrorism. Aided by charmingly retro illustrations vaguely reminiscent of a 1940s air raid brochure, Harrison (Another Place at the Table) presents her "OAR" system for preparedness—organizing, acquiring and rotating supplies—and techniques to safely and even comfortably survive any kind of emergency. She shows how to prepare for a short-term crisis: building a supply of food and water; preparing first aid and evacuation kits; planning communication and a family meeting place in times of crisis. She also presents long-term strategies for self-sufficiency: "eliminating debt and securing a supply of cash in your home"; planting a garden, canning food and making cheese; replacing an inefficient fireplace with a woodstove; building a solar oven. Harrison shows that learning to do it yourself, besides providing some security in an increasingly insecure world, brings less obvious but perhaps equally important benefits: "an incredible sense of self-sufficiency and independence." And pointing out that family preparedness can build community, she reminds readers, "crisis can bring out the best in people, or the worst. Strive to be one of the good guys." (2008)

— New York Times
Kathy Harrison's Just in Case is an ideal preparedness guide for families. It is a must for the bookshelf of anyone that is serious about being prepared for emergencies. - James Wesley Rawles, Editor of www.SurvivalBlog.com, and author of Patriots: Surviving the Coming Collapse
— Newsday.com
"Her wisdom is delivered in a tone of pioneer optimism." (7/31/08)

"She's not a survivalist nut case….instead, she's a rather ordinary homeowner and parent who wants to be able to take care of her family."