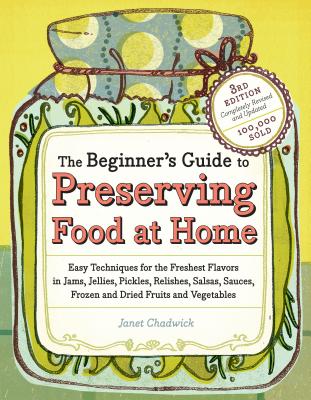 The Beginner's Guide to Preserving Food at Home (Paperback)
Easy Techniques for the Freshest Flavors in Jams, Jellies, Pickles, Relishes, Salsas, Sauces, and Frozen and Dried Fruits and Vegetables
Storey Publishing, LLC, 9781603421454, 240pp.
Publication Date: May 27, 2009
* Individual store prices may vary.
Description
Freeze, dry, can, root cellar, and brine your favorite produce right at home. Janet Chadwick's introduction to the world of preserving provides step-by-step instructions and inspiring easy-to-follow recipes. Pick up a crate of inexpensive, less-than-perfect tomatoes at the farmers' market and turn them into jars of spicy salsa, or buy a few extra peaches and can a delicious batch of jam to serve with Sunday breakfast. You'll extend the summer harvest and find yourself serving up delicious, locally grown food all year long.
About the Author
Janet Chadwick has been growing and preserving food for years. She is the author of The Beginner's Guide to Preserving Food at Home and several other cooking and gardening books. Chadwick lives in Hinesburg, Vermont, where she has been growing and preserving food for years.