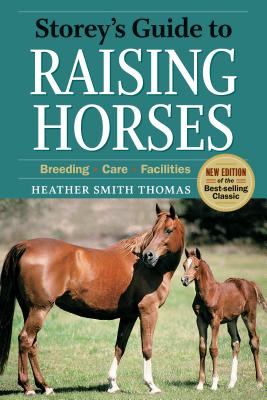 Storey's Guide to Raising Horses, 2nd Edition (Paperback)
Breeding, Care, Facilities (Storey's Guide to Raising)
Storey Publishing, LLC, 9781603424714, 512pp.
Publication Date: December 23, 2009
Other Editions of This Title:
Hardcover (1/6/2010)
* Individual store prices may vary.
Description
Raising horses successfully requires good preparation, hard work, and a sincere interest in your animals' well-being. With in-depth information on all aspects of horsekeeping, including grooming, foaling, housing, diet, exercise, and medical care, this comprehensive guide covers everything you need to know to raise healthy and happy horses.
About the Author
Heather Smith Thomas has written extensively on animal health care, authoring thousands of articles and 24 books on the subject. Her books include Storey's Guide to Raising Beef Cattle, Essential Guide to Calving, Getting Started with Beef & Dairy Cattle, The Cattle Health Handbook, The Horse Conformation Handbook, Storey's Guide to Raising Horses, Storey's Guide to Training Horses, and Stable Smarts. She raises cattle and horses on her family ranch in Salmon, Idaho.
Praise For Storey's Guide to Raising Horses, 2nd Edition: Breeding, Care, Facilities (Storey's Guide to Raising)…
"An experienced horsewoman and author, Heather Smith Thomas brings all of her experience to bear…" – Western Horseman
"…a handy reference guide for anyone…can really help an industry newcomer learn the many, many facets of horsekeeping." – Western Horseman
"In this in-depth guide to intelligent horsekeeping, you'll find the most up-to-date information about caring for horses from birth to old age." – Equine Journal
"You'll reach for this comprehensive reference again and again, acquiring knowledge and skills you need to keep your horses fit and healthy in both body and spirit." – Equine Journal
"Learn how to care for your horses with knowledge and skill so you can fully enjoy them while providing them with a safe and happy environment." – Log Homes Illustrated magazine
"…this comprehensive guide covers every aspect of ownership and care…" – American Small Farm