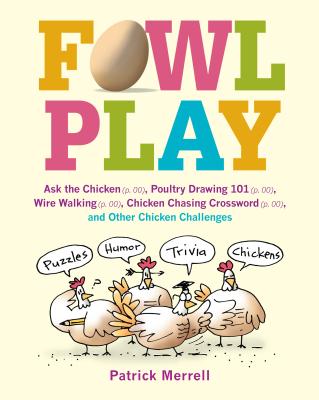 Fowl Play (Paperback)
Ask the Chicken (page 7) Road Crossing (page 71) Feather Plucking (page 78) Hunt and Peck (page 94) and Other Chicken Challenges
Storey Publishing, LLC, 9781603424875, 144pp.
Publication Date: August 26, 2009
* Individual store prices may vary.
Description
Why did the chicken cross the road? To get a copy of Fowl Play! This freshly hatched collection of chicken-centric games and puzzles will have you clucking and cackling for hours on end. Along with poultry-themed word searches, crosswords, mazes, and math challenges, noted puzzle creator Patrick Merrell also includes cartoons, jokes, and plenty of chicken trivia. Get ready for hours of Grade A fun that will appeal to fowl fanciers of all ages.
 
About the Author
Patrick Merrell is a cartoonist, puzzle maker, and author whose work has appeared in hundreds of publications. He is a regular contributor to the New York Times crossword, the American Crossword Puzzle Tournament, and the World Puzzle Championship. His other books include Bird Brainteasers and Coffee Time. He lives in Mt. Vernon, New York.
or
Not Currently Available for Direct Purchase