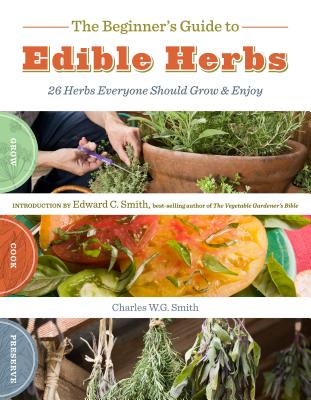 The Beginner's Guide to Edible Herbs (Paperback)
26 Herbs Everyone Should Grow and Enjoy
Storey Publishing, LLC, 9781603425285, 145pp.
Publication Date: April 17, 2010
* Individual store prices may vary.
Description
Nothing tastes better than herbs fresh from the garden. Discover how easy and rewarding it is to grow your own! Simple instructions, tempting dishes, and beautiful full-color photographs will inspire you to grow, harvest, preserve, and cook with 26 of the most popular kitchen herbs, including basil, chives, cilantro, dill, fennel, garlic, lavender, oregano, parsley, rosemary, sage, and tarragon. Your pantry will soon be filled with seasoned salts, Provençal vinegar, and caraway cookies.
About the Author
A former horticulturalist for White Flower Farm, Charles W.G. Smith has also been an instructor of vocational agriculture. He has written about gardening and environmental issues for more than a decade. He is the author of The Beginner's Guide to Edible Herbs, The Weather-Resilient Garden, and Raptor!
Saxon Holt has combined his career as a photographer with a lifelong love of gardening. His work has appeared in dozens of books and gardening magazines. He is a member of the American Society of Media Photographers, the American Society of Picture Professionals, and the Garden Writers of America Association, from which he has received three awards for his photography.
Edward C. Smith is the best-selling author of The Vegetable Gardener's Bible and The Vegetable Gardener's Container Bible. For more than 30 years he and his wife, Sylvia, have lived off the grid in Vermont, in a house they built on land they cleared by hand. Together, the grow more than 100 varieties of vegetables, fruits, and herbs in their 2,000 square feet of gardens and containers.