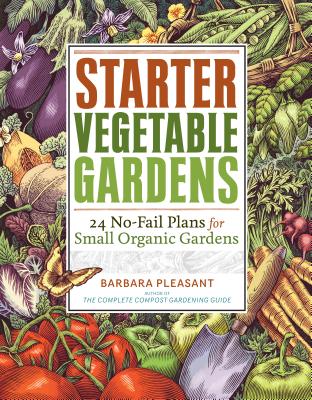 Starter Vegetable Gardens (Paperback)
24 No-Fail Plans for Small Organic Gardens
Storey Publishing, LLC, 9781603425292, 180pp.
Publication Date: March 17, 2010
* Individual store prices may vary.
Description
Develop your green thumb as you learn to grow your own food. In this introductory guide to growing vegetables, Barbara Pleasant addresses common problems that first-time gardeners encounter. Using simple language and illustrated garden layouts, Pleasant shows you how to start, maintain, and eventually expand an organic vegetable garden in even the tiniest backyard. With handy tips on enriching soil, planting schedules, watering, fighting pests, and more, you'll quickly discover how easy it is to enjoy your own homegrown vegetables. 
About the Author
Barbara Pleasant has been covering organic gardening and self-sufficient living for more than 30 years. A contributing editor to Mother Earth News, Pleasant has garnered multiple awards from the Garden Writers Association and the American Nursery and Landscape Association. She has written books on topics ranging from compost to weeds, including Homegrown Pantry, Starter Vegetable Gardens, The Complete Compost Gardening Guide (with Deborah L. Martin), The Complete Houseplant Survival Manual, The Gardener's Bug Book, The Gardener's Weed Book, The Gardener's Guide to Plant Diseases, and Garden Stone. Her columns and articles appear regularly in Mother Earth Living magazine and at GrowVeg.com and on other informational websites. Pleasant lives in Virginia, where she grows vegetables, herbs, and fruits along with a few chickens, who all have names.