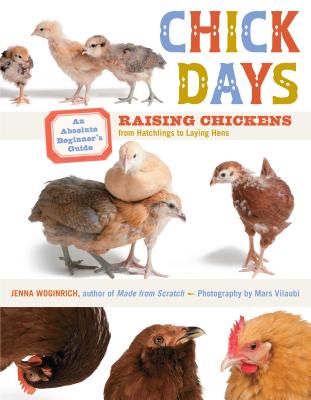 Chick Days (Paperback)
An Absolute Beginner's Guide to Raising Chickens from Hatching to Laying
Storey Publishing, LLC, 9781603425841, 128pp.
Publication Date: January 11, 2011
* Individual store prices may vary.
Description
Jenna Woginrich chronicles the life journey of three chickens (Amelia, Honey, and Tilda) from fluffy, newly hatched bundles to grown hens laying eggs of their own. As you watch these chickens grow, you'll learn everything you need to know about chicken behavior, feeding, housing, and health care. This playfully informative guide will inspire you to confidently raise your own feathered flock. 
 
About the Author
Jenna Woginrich is a homesteader and the author of Barnheart, Chick Days, and Made from Scratch. She blogs at Cold Antler Farm, as well as Mother Earth News and The Huffington Post. A Pennsylvania native, she has made her home in the mountains of Tennessee, in northern Idaho, in rural Vermont, and most recently in upstate New York, where she lives with a flock of Scottish Blackface sheep, a border collie in training, chickens and geese, a hive of bees, a horse, and several amiable rabbits.
Photographer Mars Vilaubi chronicled the adventures of his three backyard hens from their first days out of the egg through their first days laying eggs in Chick Days. He lives in western Massachusetts.
Praise For Chick Days: An Absolute Beginner's Guide to Raising Chickens from Hatching to Laying…
"The perfect book for anyone wanting to get started with chickens."
"A day-by-day guide designed to reassure the newbie chicken keeper that raising chicks is fun and easy."