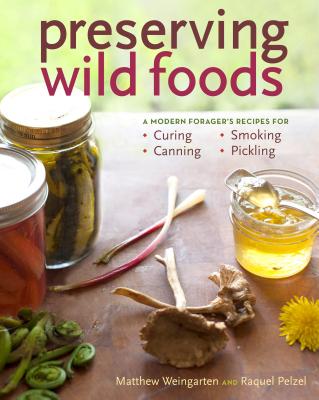 Preserving Wild Foods (Paperback)
A Modern Forager's Recipes for Curing, Canning, Smoking, and Pickling
Storey Publishing, LLC, 9781603427272, 256pp.
Publication Date: November 6, 2012
* Individual store prices may vary.
Description
Whether you forage in the wild or at the farmers' market, you'll delight in the unique preserves featured in this one-of-a-kind collection. With a reverence for the natural world and all of its edible bounty, Matthew Weingarten and Raquel Pelzel encourage you to explore the ways in which wild ingredients can be transformed into tasty foods through a range of preserving techniques that include canning, smoking, curing, and pickling. Enjoy your own delicious Duck Prosciutto, Dandelion Jelly, Crab Apple Mostrada, and more!
About the Author
Raquel Pelzel's work has been featured in Saveur, the Wall Street Journal, Every Day with Rachael Ray, Shape, and Epicurious, among many others. Formerly an editor at Cook's Illustrated and the senior food editor and test kitchen director for Tasting Table, Pelzel has written more than 20 cookbooks and has judged Food Network shows including Chopped Junior and Beat Bobby Flay. Pelzel lives in Brooklyn, New York, with her two sons.

 
Matthew Weingarten is the executive chef at Inside Park at St. Bart's in New York City, where he brings a strong sense of place and seasonality to his professional cooking. He was previously chef de cuisine at Savoy and Quilty's, both in SoHo. At Inside Park, Weingarten fosters strong relationships with the farmers and purveyors who have become part of his food family. Interested in lost culinary techniques, he practices the art of curing meats, pickling vegetables, and preserving fruits. He enjoys giving back to the community that he has helped shape by peer-mentoring in the workplace and introducing others to a world of place and season at the dining table.
Praise For Preserving Wild Foods: A Modern Forager's Recipes for Curing, Canning, Smoking, and Pickling…
"A must read for preserving enthusiasts" 
"New York City chef Weingarten doesn't let his urban base get in the way of his passion for scavenging edibles; even sidewalk cracks are fair game when it comes to sourcing herbs. In this encyclopedia of all things cured, canned, smoked, and pickled, he shares his favorite ways to preserve the bounty."
"A serious book for the committed forager who sallies undaunted o'er beaches, hedgerows, fields, forests and wetlands. With lovely photos and detailed recipes, the authors offer a range of pickles, preserves, smoked, brined, fermented foods."
"But while the book is about smoking, curing and otherwise preserving wild edibles, you can make these recipes without day-tripping upstate or getting arrested for picking lamb's-quarters in Prospect Park, because the techniques work just as well on chanterelles hunted at the Greenmarket or Union Market. Our advice? Buy yourself the book now and next year you can give everyone on your list a jar of handmade Maraschino cherries."
"New York chef Matthew Weingarten and TT's senior food editor, Raquel Pelzel, prove that delicious wild ingredients are abundant if you know what to look for and where to find it, even in Manhattan's concrete jungle. But the book is hardly just a guide to picking plants: Find great instructions for making everything from maraschino cherries to oil-cured anchovies."
"Preserving Wild Foods is a recipe book as well as an expression of the 'wonder and joy' that comes from a connection to the seasonal, natural world. … A great book for beginning foragers, as the authors interweave foraged foods with those you might find in a cultivated garden or farmers' market."
"Weingarten uses his sensibilities as a chef to both wake up standard recipes and introduce new flavor combinations … a valuable book for aspirational foragers, preserving geeks, and people who forage regularly and [are] serious about preserving their finds."
"Will delight those looking for a new experience … Weingarten and Pelzel take readers beyond their backyard gardens to landscapes and waters many home cooks may not have considered using to fill their pantry. A great reference for those who want to try their hand at recipes outside of the "fruit preserves box."