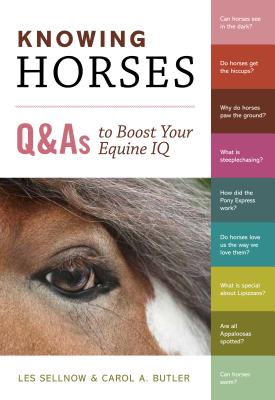 Knowing Horses (Paperback)
Q&As to Boost Your Equine IQ
Storey Publishing, LLC, 9781603427982, 256pp.
Publication Date: September 25, 2012
* Individual store prices may vary.
Description
Did you know that a miniature horse weighs just a few pounds, while a giant draft horse can weigh well over a ton? Or that from a standstill a mule can jump, kangaroo-like, more than five feet high?  With answers to hundreds of questions about behavior, physiology, training, and special breed characteristics, Knowing Horses has all your horse quandaries covered.
About the Author
Carol A. Butler is co-author of a series of natural history Q&A books with Rutgers University Press, a psychoanalyst, and a docent at the American Museum of Natural History. She lives in New York, New York.
Les Sellnow is a lifelong horseman, competitor, and journalist, as well as the author of eight horse books and hundreds of magazine articles. He writes regularly for The Horse and The Blood-Horse magazines. He lives in Riverton, Wyoming.
Praise For Knowing Horses: Q&As to Boost Your Equine IQ…
Knowing Horses is a must for those who love horses and want to learn more about their favorite animals.
Les Sellnow, a competitive horseman and journalist, and Carol A. Butler, a writer, psychoanalyst and docent at the American Museum of Natural History, have unearthed a plethora of interesting facts and stories about horses and included them in a pocket-sized paperback that is interesting to browse as well as have on hand as a quick reference.