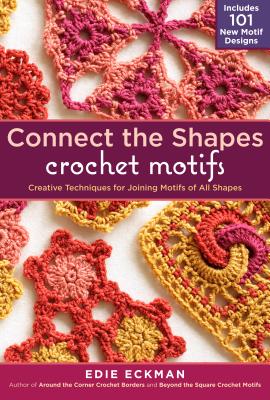 Connect the Shapes Crochet Motifs (Spiral bound)
Creative Techniques for Joining Motifs of All Shapes; Includes 101 New Motif Designs
Storey Publishing, LLC, 9781603429733, 272pp.
Publication Date: October 23, 2012
* Individual store prices may vary.
Description
Connecting beautiful motifs can be just as enjoyable as crocheting them. Edie Eckman's creative joining techniques allow you to easily combine multiples to form a whole new pattern, from lacy links, swirls, radiants, and wheels to three-dimensional effects. Step-by-step instructions, detailed photography, and innovative stitching charts ensure success. With 100 brand-new motif designs at your fingertips, you'll be free to explore limitless variations and capture your own personal style. 
About the Author
Edie Eckman is the author of Connect the Shapes Crochet Motifs, Around the Corner Crochet Borders, Beyond the Square Crochet Motifs, The Crochet Answer Book, and Christmas Crochet for Hearth, Home & Tree, as well as co-editor of Crochet One-Skein Wonders® and Crochet One-Skein Wonders® for Babies. She is a nationally known teacher, designer, writer, and editor in both the crochet and knitting worlds. She lives in Waynesboro, Virginia.
Praise For Connect the Shapes Crochet Motifs: Creative Techniques for Joining Motifs of All Shapes; Includes 101 New Motif Designs…
Eckman's (Around the Corner Crochet Borders) specialty is crochet motifs—she has a knack for turning simple stitches with colorful yarn into something fresh and contemporary. Here, she introduces a new batch of crocheted motifs as well as a variety of creative methods for joining the motifs together. Full-color photographs of each motif are included, as are written and charted directions. As a bonus, there are 12 patterns that use the motifs and connection techniques covered in the book. This isn't for beginners—readers need to know how to crochet to get the most out of it—but Eckman may inspire some noncrocheters to learn, just so they can experiment with the techniques she describes. ­VERDICT Eckman's eye for color and design make this an excellent addition to any crafter's crochet collection.