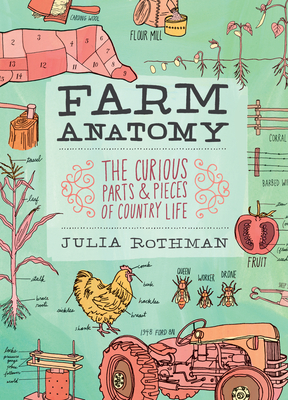 Farm Anatomy (Paperback)
The Curious Parts and Pieces of Country Life (Julia Rothman)
Storey Publishing, LLC, 9781603429818, 224pp.
Publication Date: October 1, 2011
* Individual store prices may vary.
Description
Learn the difference between a farrow and a barrow, and what distinguishes a weanling from a yearling. Country and city mice alike will delight in Julia Rothman's charming illustrated guide to the curious parts and pieces of rural living. Dissecting everything from the shapes of squash varieties to how a barn is constructed and what makes up a beehive to crop rotation patterns, Rothman gives a richly entertaining tour of the quirky details of country life. 
 
About the Author
Julia Rothman is an illustrator, pattern designer, and author. In addition to working for clients such as the New York Times, Target, and Ann Taylor, she has her own lines of wallpaper, stationery, fabric, and dishware. Rothman has authored, coauthored, and illustrated ten books including The Nature Anatomy Notebook, Food Anatomy, Nature Anatomy, and Farm Anatomy. She lives and works in Brooklyn, New York.
 
Praise For Farm Anatomy: The Curious Parts and Pieces of Country Life (Julia Rothman)…
Farm Anatomy fits perfectly into my growing collection of books that will come in handy when I give up city life for green acres. (Or more realistically, when I'm sitting in my city apartment needing a quick armchair-style escape.)
"Charming drawings and handwritten text make this the perfect picture book for grown-up dreamers."