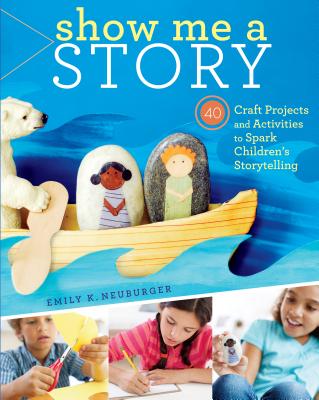 Show Me a Story (Paperback)
40 Craft Projects and Activities to Spark Children's Storytelling
Storey Publishing, LLC, 9781603429887, 144pp.
Publication Date: August 28, 2012
* Individual store prices may vary.
Description
Encouraging children to let their imagination run wild, Emily K. Neuburger offers 40 inventive projects and activities that will inspire kids ages 5 to 12 to express themselves through storytelling. Younger children will love making story stones and a storytelling jar, while older kids will open up and thrive as they embark on guided story walks and inspiring journaling exercises. Sparking creativity while developing a child's love of language, Show Me a Story will kindle a lifelong passion for both writing and telling original stories. 
About the Author
Emily K. Neuburger is a writer, artist, and freelance art and creative writing teacher. She is passionate about encouraging people to get pumped about creativity, especially when it comes to the intersection of words and art. She is the author of the award-winning book Show Me a Story (Dr. Toy Best Picks, Family Choice Award, National Parenting Products Award honors, USA Best Books, International Book Awards finalist) and writes regularly about creativity and unexpected treasures on her website, emilyneuburger.com, as well as in print magazines and around the web. She lives in western Massachusetts with her husband and three children.
 
Praise For Show Me a Story: 40 Craft Projects and Activities to Spark Children's Storytelling…
Best Picks winner in Dr. Toy's 2012 Best Children's Products Program
Honors winner in the Book category
"Parents, teachers, and child-care providers will find plenty of inspiration in these projects, and children will enjoy using them in their creative pursuits."
"Low on tech, high on terrific"
"Have you ever thought about combining craft projects and story telling?  What an ingenious idea!"
"This book is truly a great resource"
"What memories and people – especially families – are all about: stories (both true and imagined), told and retold within groups of people. This is an official rave."
"Each craft project is presented in an easy-to-follow way, with colorful photographs of the adorable and fun-looking projects."
"Emily K. Neuburger's guide to inspiring storytelling in children welcomes readers as easily as a mother on a playground. … the book makes storytelling simple … Show Me a Story is a necessary book for parents, educators, and those who might be searching for new ways to spark the creativity of young people."
"A must-have book for parents and teachers, this amazing book is full of creative ideas to develop a child's storytelling skills. From story stones to picture tales to story maps, your children's imagination will blossom as they enjoy the activities listed in this book. Regardless of their reading level, this book is a great tool for developing reading comprehension, sequence, characters, setting, plot, and so much more."
"Unique and beautiful … this book can be the beginning of endless hours of creativity for both kids and the grown-ups who spend time with them." 
"Public and school libraries will want this rich, innovative craft book in their collections."
Winner of a 2012 Family Choice Award