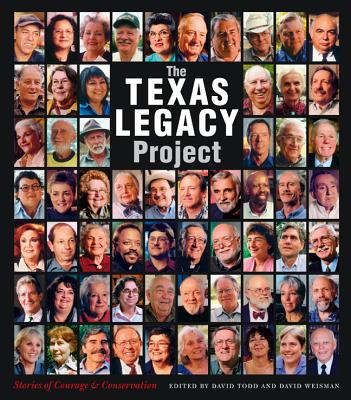 The Texas Legacy Project: Stories of Courage and Conservation (Paperback)
Stories of Courage and Conservation
Texas A&M University Press, 9781603442008, 296pp.
Publication Date: September 10, 2010
* Individual store prices may vary.
or
Not Currently Available for Direct Purchase
Description
A city dweller's vacant lot . . . A rancher's back forty . . . A hiker's favorite park . . . When the places that we love are threatened, we can be stirred to action. In Texas, people of all stripes and backgrounds have fought hard to safeguard the places they hold dear.
To find and preserve these stories of courage and perseverance, the Conservation History Association of Texas launched the Texas Legacy Project in 1998, traveling thousands of miles to conduct hundreds of interviews with people from all over the state. These remarkable oral histories now reside in an incomparable online and physical archive of video, audio, text, and other materials that record these extraordinary efforts by veteran conservationists and ordinary citizens to preserve the natural legacy of Texas.
This book holds stories from more than sixty people who represent a variety of causes, communities, and walks of life from a West Texas grocer fighting nuclear waste to an Austin lobbyist pressing for green energy. Each speaks from the heart in personal reminiscences and first-hand accounts of battles fought for land and wildlife, for public health, and for a voice in media and politics. These impassioned accounts remind us of the importance of protecting and conservingthe natural resources in our own backyards . . . wherever they may be.
"The Texas Legacy Project" is a companion to the interactive website www.texaslegacy.org. Records of the archive are available at the Briscoe Center for American History at the University of Texas at Austin.
"Five dollars of the cost of this book goes to environmentally friendly materials and processes.
About the Author
David Todd is the founder, coordinator, and interviewer for the Conservation History Association of Texas. He has worked as an environmental attorney, environmental donor, and cattle rancher, and has served on the boards of Audubon Texas, the Texas Conservation Alliance, Texas League of Conservation Voters, and Lone Star Chapter of the Sierra Club.DavidWeisman is the director, cameraman, cataloguer, and video editor for the Conservation History Association of Texas. He has been producing award-winning educational documentary and non-fiction film and video works since 1982, specializing in issues of social awareness and environmental concern."
Praise For The Texas Legacy Project: Stories of Courage and Conservation…
"No student should graduate from a Texas High School without reading this book . . . or even memorizing it."—Bill Moyers, host, Bill Moyers Journal

"No student should graduate from a Texas high school without reading this book  . . . or even memorizing it."—Bill Moyers, host, Bill Moyers Journal



 

-Bill Moyers, host, Bill Moyers Journal

"This book gives us an important chance to listen to nature, learn from nature's students and stewards, and protect our shared conservation legacy for our children and grandchildren."--Larry Schweiger, president and CEO, National Wildlife Federation
-Larry Schweiger

"A splendid new book, The Texas Legacy Project: Stories of Courage and Conservation, drawing on an impressive archive of personal reminiscences made available through the Texas Legacy Project, describes in the heartfelt and plain spoken words of its narrators how Texas came to develop such an impressive commitment to nature resources and the environment. Through these 'citizen journeys' emerges a tacklebox of tools, documented to have worked in the past, that have the promise of extending the Texas legacy to a whole new generation."--Henry Foster, former head, The Nature Conservancy, Yale School of Forestry, and Alton Jones Foundation
-Charles H.W. "Henry" Foster

"Texans have good reason to be proud of their abundant wildlife. It attracts nature enthusiasts from around the world. That's no accident. Dozens of colorful Texas personalities toiled most of their lives to protect the wildlife we now enjoy. The Texas Legacy Project: Stories of Courage and Conservation brilliantly captures their stories in their words. It's a must-read for anyone who cares about Texas. Hopefully, it will inspire the next generation of Texas conservation leaders."--John Flicker, former President and CEO, National Audubon Society
-John Flicker

"The Texas Legacy Project confirms the incredible value of efforts by individuals who, like John Muir, Henry David Thoreau, and Theodore Roosevelt, dedicated much of their lives to controversial ideas that turned out to give great benefit to the public."--Don Henley, recording artist, environmentalist, and founder of the Caddo Lake Institute in Texas and the Walden Woods Project in Massachusetts
-Don Henley

"In a state where most of the wildlands are fenced in or marked with signs that say, 'keep out,' The Texas Legacy Project reminds us not only what is at stake but why 'the open space of democracy' matters to the souls of all Americans. Private lands, working lands, lands that still hold the spirit of wildness make this book a compilation of commitment. May these stories told by individuals devoted to a place, not only take root in Texas, but all across this country. The legacy of the land is the legacy of its people. The Texas Legacy Project is living proof that leadership is love, especially when focused on the landscapes that shapes us. This is a book that celebrates passionate engagement in the places we call home."—Terry Tempest Williams, author of Finding Beauty in a Broken World


-Terry Tempest Williams

"Narratives like his are enlightening and clever and make The Texas Legacy Project - which will be released tomorrow - delightful reading. The 62 stories are edited carefully to preserve each individual voice." - Nora Seton, Houston Chronicle
-Nora Seton

"So often when we look for heroes, we search in all the wrong places: sports, arenas, movie theaters, concert halls. Now, thanks to The Texas Legacy Project, the stories of dozens of ordinary heroes are available for daily inspiration."—Louie Bond, Texas Parks & Wildlife


-Louie Bond

"I've never seen such an engrossing cavalcade of those rare, self-motivated people who are the sturdy pillars of a striving democratic society. If you just read their own reflections and stories, civic motivation and its resulting achievements will occupy your mind and induce you to have a higher estimate of your own significance. A great jolting gift for the disillusioned, the deprived and the easily deterred."--Ralph Nader
 


-Ralph Nader

"The Texas Legacy Project is a beautiful large-format book that includes a useful environmental history chronology and helpful maps of Texas. This book demonstrates the great value of such projects and points the way forward for environmental historians to develop similar collaborative projects and publish results."--Adam M. Sowards, Environmental History
-Adam M. Sowards
Advertisement