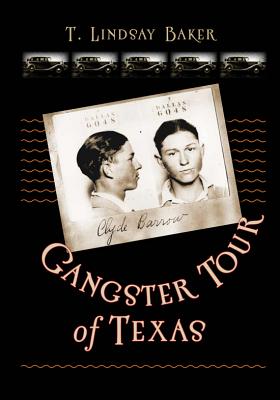 Gangster Tour of Texas (Paperback)
Texas A&M University Press, 9781603442589, 352pp.
Publication Date: August 31, 2011
* Individual store prices may vary.
Description
Bonnie and Clyde, Machine Gun Kelly, the Newton Boys, the Santa Claus Bank Robbers. . . . During the era of gangsters and organized crime, Texas hosted its fair share of guns and gambling, moonshine and morphine, ransom and robbery. The state's crime wave hit such a level that in 1927 the Texas Bankers Association offered a reward of $5,000 for a dead bank robber; no reward was given for one captured alive.
Veteran historian T. Lindsay Baker brings his considerable sleuthing skills to the dark side, leading readers on a fascinating tour of the most interesting and best preserved crime scenes in the Lone Star State. Gangster Tour of Texas traces a trail of crime that had its beginnings in 1918, when the Texas legislature outlawed alcohol, and persisted until 1957, when Texas Rangers closed down the infamous casinos of Galveston.
Baker presents detailed maps, photographs of criminals, victims, and law officers, and pictures of the crime scenes as they appear today. Steeped in solid historical research, including personal visits by the author to every site described in the book, this volume offers entertaining and informative insights into a particularly lawless period in our nation's history. Readers interested in true crime, regional history, or this unique aspect of heritage tourism will derive hours of enjoyment as they follow--on the road or from their armchairs--the trail of both cops and robbers in Gangster Tour of Texas.
"Baker knows how to spin a yarn that keeps his readers engrossed; knows that it does history no harm to write it so folks will enjoy many illustrations, maps, and pictures of outlaws, lawmen, victims, witnesses, and crime scenes that accompany each story. Plus, his picture captions are as informative as his story narratives."--Bill Neal, author, Getting Away with Murder on the Texas Frontier
About the Author
T. LINDSAY BAKER, who holds the W. K. Gordon Endowed Chair in Texas History at Tarleton State University, has produced numerous books on Texas and southwestern history, including Adobe Walls (Texas A&M University Press, 1986; with Billy R. Harrison) and The Birth of a Texas Ghost Town (Texas A&M University Press, 2008).
Praise For Gangster Tour of Texas…
"T. Lindsay Baker, preeminent authority on Texas ghost towns, has compiled a captivating new collection of historic sites for Texas travelers. In Gangster Tour of Texas, Baker painstakingly located hundreds of sites from the sordid world of Bonnie and Clyde, the bank-robbing Newton boys, Machine Gun Kelly, Galveston's high-rolling Maceo brothers, and a colorful host of other Lone Star rogues. In addition to an enticing photo collection and narrative, there are precise directiions that will make this travel guide an indispensable companion while driving across Texas."--Bill O'Neal, author, Ghost Towns of the American West
— Bill O'Neal
"T. Lindsay Baker tells sixteen true crime tales that happened during what he calls the 'gangster era' of Texas beginning in 1918, when Prohibition began enriching a host of bootleggers and lasting until 1957, when the Texas Rangers finally shut down the high-rolling casinos in Galveston. Several of his stories are familiar: the escapades of Bonnie and Clyde, the Newton brothers, Machine Gun Kelly, and the Santa Claus bank robbers. Others, such as 'Becky Rogers, the Flapper Bandit,' are not so familiar. (Becky, who looked for all the world like a petite, teenage cherub, decided to finance her graduate studies at the University of Texas by robbing banks. Fortunately for Becky her young husband graduated from law school just in time to defend his bride in court and thus keep her out of prison.) Baker, a distinguished southwestern historian, knows how to spin a yarn that keeps his readers engrossed; knows that it does history no harm to write it so folks will enjoy many illustrations, maps, and pictures of outlaws, lawmen, victims, witnesses, and crime scenes that accompany each story. Plus, his picture captions are as informative as his story narratives; he even gives the reader specific directions on how to locate each crime scene. Dr. Baker has devoted more than a decade to traveling the highways and byways of Texas and other states diligently following, photographing, and documenting outlaw trails. Let others hone their skills as cold case detectives; Dr. Baker has perfected his expertise as a cold trail detective. He calls his book, 'A Gangster Tour of Texas.' Hear! Hear! No better tour guide than T. Lindsay Baker."--Bill Neal, author, Getting Away with Murder on the Texas Frontier
— Bill Neal
"From Bonnie and Clyde to to Galveston's Maceo brothers, Baker tells of crime and outlaws, with photos and even maps to help illustrate each story."--Marie Beth Jones, The Facts
— Marie Beth Jones
"Noted Texas historian T. Lindsay Baker takes readers on a fascinating ride in his Gangster Tour of Texas covering the escapades of Bonnie and Clyde, the Newton Boys, Machine Gun Kelly, the Santa Clause bank robbery, and Becky Rogers, "the flapper bandit."--San Angelo Standard Times
— Glenn Dromgoole
"...T. Lindsay Baker has sparked new interest in his great new book, Gangster Tour of Texas published by Texas A&M University Press. Baker tells intriguing stories of selected wrong doers and shows us how to find where the evil took place. Baker gives new wrinkles to their adventures when he introduces people not usually taked about such as Sheriff "Smoot" Schmidt The Band C account is among the most interesting and with pictures, maps, and directions of how to find where the crimes took place, the story seems complete. If you want to learn more about gangsters in Texas and even visit where they did their dirty work, get a copy of Gangster Tour of Texas."--Jerry Turner, The Mexia News
— Jerry Turner
"For this book, T. Lindsay Baker, a professor of Texas history at Tarleton State University, traveled across the Lone Star State visiting crime scenes dating from 1918 to 1957. He traces the footprints of Bonnie and Clyde, the Newton Boys, Becky Rogers ("The Flapper Bandit"), Machine Gun Kelly, the Santa Claus Bank Robber and other notorious individuals. Tarrant County residents will not want to miss th e chapter on the Texas and Pacific Mail Robbery in Fort Worth. Lots of maps and photos (many from the Star-Telegram archives at thte University of Texas at Arlington) add much to the already compelling stories."--Catherine Mallette, Fort Worth Star-Telegram
— Catherine Mallette
"Baker is a premier yarn spinner and consummate historian, and his writing accurately conveys his remarkably honed sense of place, as well as his enthusiasm for a historical tale well told. Gangster Tour of Texas is site-based history at its most compelling level. What he finds, he carefully documents, photographs, and maps so heritage tourists can literally follow the crime spree. It is, as the title suggests, a tour, but a tour unlike any other. Gangster Tour of Texas makes a significant contribution to our collective understanding of the recent past by exploring one important aspect of social history. It is a study that is, at once, engaging, comfortable, rewarding, and unforgettable."--Dan K. Utley, Southwestern Historical Quarterly
— Dan K. Utley
"While Baker's historical investigation of forgotten and lurid crimes, reconstructed geography, and good writing may inspire others to further work in specialized areas, for the general aficionado of Texana, the compelling reason to acquire this book and to consider visiting these crime scenes is simply: it's much better than fiction!"--Legacies
— Josiah M. Daniel, III
"What is singular in this attractively produced book is the author's dual focus as he supports each of his 16 lively criminal stories with photographs, maps, and drawings that guide readers who want a tour guide for specific crime sites."--William R. Hunt, Panhandle-Plains Historical Review
— William R. Hunt
or
Not Currently Available for Direct Purchase