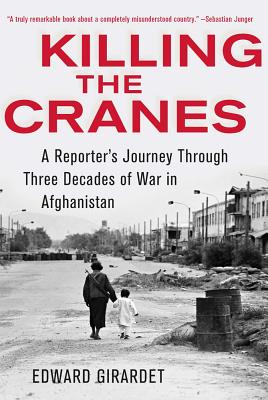 Killing the Cranes (Hardcover)
A Reporter's Journey Through Three Decades of War in Afghanistan
Chelsea Green Publishing Company, 9781603583428, 417pp.
Publication Date: August 3, 2011
Other Editions of This Title:
Paperback (8/8/2012)
* Individual store prices may vary.
Description
Few reporters have covered Afghanistan as intrepidly and humanely as Edward Girardet. Now, in a gripping, personal account, Girardet delivers a story of that nation's resistance fighters, foreign invaders, mercenaries, spies, aid workers, Islamic extremists, and others who have defined Afghanistan's last thirty years of war, chaos, and strife.
As a young foreign correspondent, Girardet arrived in Afghanistan just three months prior to the Soviet invasion in 1979. Over the next decades, he trekked hundreds of miles across rugged mountains and deserts on clandestine journeys following Afghan guerrillas in battle as they smuggled French doctors into the country, and as they combated each other as well as invaders. He witnessed the world's greatest refugee exodus, the bitter Battle for Kabul in the early 1990s, the rise of the Taliban, and, finally, the US-led Western military and recovery effort that began in 2001.
Girardet's encounters with key figures-including Ahmed Shah Massoud, the famed "Lion of Panjshir" assassinated by al Qaeda two days before 9/11, Gulbuddin Hekmatyar, an Islamic extremist massively supported by the Americans during the 1980s only to become one of today's most ruthless anti-Western insurgents, and Osama bin Laden-shed extraordinary light on the personalities who have shaped the nation, and its current challenges, from corruption and narcotics trafficking to selfish regional interests.
Killing the Cranes provides crucial insights into why the West's current involvement has turned into such a disaster, not only rekindling a new insurgency, but squandering billions of dollars on a recovery process that has shown scant success.
or
Not Currently Available for Direct Purchase