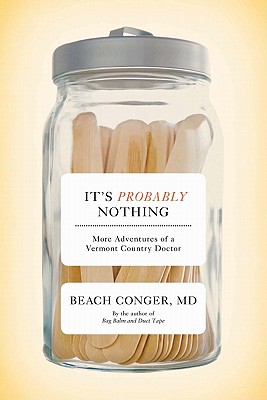 It's Probably Nothing (Paperback)
More Adventures of a Vermont Country Doctor
Chelsea Green Publishing Company, 9781603583848, 255pp.
Publication Date: September 1, 2011
* Individual store prices may vary.
Description
It's Probably Nothing continues the tale woven by Dr. Beach Conger in his first book, Bag Balm and Duct Tape. This new collection sees Conger and his wife yearning for new challenges and relocating to the suburbs of Philadelphia after 25 years in mythical Dumster, Vermont. Conger gamely takes a job in a teaching hospital in the poorest part of the city and gets to experience urban bureaucratized medicine and its trials- a far cry from the more idiosyncratic and hands-on version he practiced in Vermont. After 5 years Conger and his wife move back to Dumster, where he rediscovers more about his patients' capacity to both cope and cherish one another than he expected.
Each of the tightly constructed chapters is centered around a particular patient or particular theme in medicine. It's Probably Nothing is both funny and poignant, and showcases both Conger's irreverent view into medicine and his profound empathy for the characters he encounters along the way. His experience highlights how medicine-and problems with out current medical system-can remain the same and yet be vastly different across class, race, and region. Among the people the reader meets are urban drag queens, small-town farmers and other heroes, Vermont celebrities, and the occasional reclusive author.
or
Not Currently Available for Direct Purchase