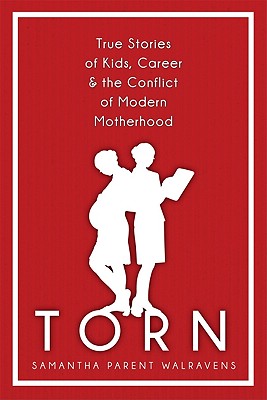 Torn: True Stories of Kids, Career & the Conflict of Modern Motherhood (Paperback)
True Stories of Kids, Career & the Conflict of Modern Motherhood
Coffeetown Press, 9781603810975, 269pp.
Publication Date: April 1, 2011
* Individual store prices may vary.
or
Not Currently Available for Direct Purchase
Description
  Striking the right balance between career and motherhood is one of the most stressful, heart-wrenching tasks facing women today. In Torn, 47 women explore the conflict between the need to nurture and the need to work, and reveal creative solutions for having the best of both worlds. Their stories offer hope and inspiration, but also expose the messy realities of modern motherhood: from breast pump mishaps to battles with cancer, diaper blowouts to debilitating depression, competitive cupcake baking to coming home from war. In the end, the reader can find comfort that there is no perfect mother, nor is there a perfect balance when it comes to kids and career.Also included are highly topical stories of mothers serving active military duty in Iraq and Afghanistan; and stay-at-home mothers being forced back to work after a long hiatus because of the economic crisis.
"TORN comes at a pivotal time in history," says editor Samantha Parent Walravens. "Women's disillusionment with the career-family juggle has been escalating since the mid-1990s. The idea of women pursuing high-powered careers while also baking cookies and reading bedtime stories is increasingly seen to be unrealizable by ordinary mortals. Mothers today are getting real. They are freeing themselves from the unrealistic expectation to be everything to everybody (and look fabulous while doing it!). The Age of the Superwoman is dead."                                                                                                                                                                                                  
TORN touches on themes familiar to a wide audience. It gives voice to the hopes and fears of: anxious young professionals who are contemplating motherhood; parents overmatched by the competing responsibilities of work and family life; stay-at home mothers; and women trying to "on ramp" back into a career. In the end, the reader can take comfort in the knowledge the real challenge facing women today is not juggling their many roles, but reevaluating their expectations of what is possible and accepting that success does not equal "doing it all."
Praise For Torn: True Stories of Kids, Career & the Conflict of Modern Motherhood…
"A fascinating look at Mothering 2.0. How do we do it? In
Torn
, a new generation of moms shows us how with intelligence, wit, and candor." --Willow Bay, Senior Editor,
The Huffington Post
"Remarkably honest and moving personal testimonies…this book is a 'must read' both for women struggling to create work-life balance and for men trying to understand the plight of the women in their lives." – Geraldine Alpert, Ph.D., Psychologist and Professor of Psychiatry, University of California Medical School, San Francisco
"Torn
is a heartfelt look at how a generation of mothers is trying to forge its own identity while honoring the legacy of 60s and 70s feminism."       --Neal Pollack,
Vanity Fair
columnist
"Finally, a reality-based look at life, love and motherhood, for real women from real women. No quick fixes or fantasy escapes here. Just good, old-fashioned, in-the-trenches camaraderie that lets you know you are not alone and that the fight is worth it. Really!" – Allison Glock, Author of the award-winning memoir,
Beauty Before Comfort
"Sharp, poignant and sometimes funny stories about some very unfunny issues that mothers grapple with daily.  If you have a mother, are a mother or know a mother, read this book." - Katherine Clifford, Founder of youronramp.com
Advertisement