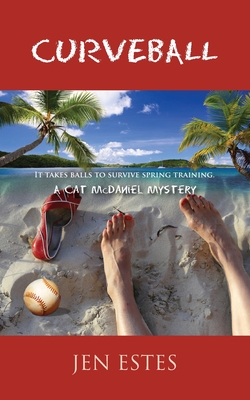 Curveball (Cat McDaniel Mysteries)
Paperback

* Individual store prices may vary.
Description
Baseball reporter Cat McDaniel specializes in expos's. Now that very talent has left her unemployed. Desperate to get off the bench and back into the lineup, she is thrilled to land an interview with the Buffalo Soldiers' General Manager Roger "Rakin'" Aiken--Baseball legend, eight-time All Star ... and oblivious father to a Major League bratty co-ed named Paige. Aiken offers Cat the team writer position for the following spring, but the opportunity is tempered by a curveball of a caveat: she must first spend the winter as a blogger reporting on the Latin American training facility. She is also supposed to look out for Paige, nominally the team's newest scouting assistant. Being a glorified babysitter and chaperone still beats being an out-of-work sportswriter. Cat reluctantly leaves behind her gorgeous boyfriend Benji and accompanies the party girl to sunny Santo Domingo to balance baselines and conga lines. Paige falls for Chance Hayward, an agent who plays hardball-the figurative kind. Joining them on the field is Paige's ex, Junior DeLeon, one of the coaches who'd really like to score with Cat. When an aspiring player turns up dead, it is up to Cat and Junior to devise a game-changing strategy. Will Cat's snooping work in her favor this time, or will she strike out ... losing her job, her boyfriend and her life? Curveball follows Big Leagues as Book 2 of the Cat McDaniel Mysteries, also known as the Foul Ball series.
Camel Press, 9781603818957, 316pp.
Publication Date: October 1, 2012