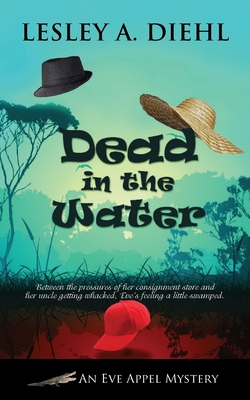 Dead in the Water (Eve Appel Mystery #2) (Paperback)
Camel Press, 9781603819374, 246pp.
Publication Date: July 15, 2014
* Individual store prices may vary.
Description
Sabal Bay consignment shop owner Eve Appel is fit to be tied--family tied. Just as she is basking in the warmth of a renewed relationship with her long-lost Uncle Winston, disaster strikes. He and his less welcome companion, Darlene, have come for a visit, and their request to participate in one of rural Florida's most popular tourist activities, an airboat ride through the swamps, ends with her uncle being shot in the head. The killing looks suspiciously like a mob hit. Turns out Uncle Winston was "connected." Was he simply a bag man, or something more? Who is Darlene, really, and how did Winston acquire three Russian stepchildren, one of whom has been kidnapped by yet another mob family--this one Russian? Winston claimed to prize family above all else, but what "family" was he talking about: his niece Eve, his relations by marriage, or his mobster employers? When Eve's best friend Madeleine is kidnapped, Eve doesn't know where to turn. Her mob-boss buddy Nappi Napolitani? Her new Miccosukee Indian friend, the long, lean, and luscious Sammy Egret? Her ex-husband, Jerry, who is in Nappi's employ? With two mob families on her tail and her boyfriend, PI Alex Montgomery, mostly away on assignment, Eve has to act fast. Before whoever wrecked her car and left her to the mercy of the alligators finishes the job they started. Dead in the Water is the second book in the Eve Appel Mystery series.