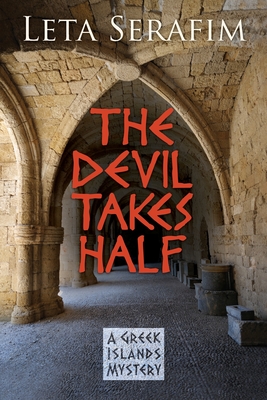 The Devil Takes Half (Greek Islands Mystery #1)
Paperback

* Individual store prices may vary.
Description
At an archeological dig on the idyllic Greek Island of Chios, a severed hand is found lying in a blood-filled trench. Could it belong to Eleni Argentis, a beautiful archeologist who is also the wealthy daughter of a local ship owner? She and her young assistant, Petros, are both missing. The chief officer of the local police force, Yiannis Patronas, suspects that Eleni and Petros happened upon something of real value. However, his search turns up nothing but handfuls of broken clay, and then, another body-that of Petros, whose throat has been brutally cut. Body parts belonging to Eleni are left behind on a remote beach, confirming her demise. Then an old priest with a fondness for TV detective shows is attacked and left for dead. The dig site is located near the monastery where he was the only resident. Patronas interviews Petros' long-suffering grandmother, his flighty mother and her money-grubbing boyfriend, as well as Eleni's greedy stepmother and her charming son. He also confronts two archeologists, one British and one American .... If Eleni's find is, as they insist, worthless, what are these men doing on Chios? Although Patronas has little experience with homicide, he is determined to conquer the evil that threatens this formerly peaceful island. The Devil Takes Half is Book 1 in the Greek Islands Mystery series.
Coffeetown Press, 9781603819657, 256pp.
Publication Date: August 1, 2014