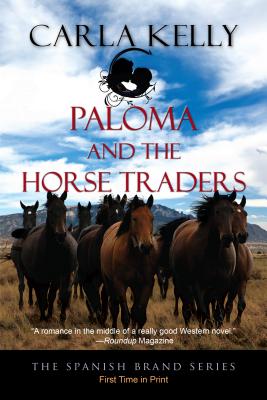 Paloma and the Horse Traders (Spanish Brand #3) (Paperback)
Camel Press, 9781603819909, 256pp.
Publication Date: September 1, 2015
* Individual store prices may vary.
Description
As the eighteenth century draws to a close, the Kwahadi Comanches seem to be making their peace with the settlers of the Spanish Colony of New Mexico. No one is as relieved as Marco Mondrag n and his adored wife Paloma Vega, whose ranch, the Double Cross, sits on the edge of Comancher a. Their tranquility is short-lived, however, for other Comanches are terrorizing the plains, led by the ruthless renegade, Great Owl.
At the annual fair in Taos, Marco and his Comanche friend Toshua arrange to buy a team of bays from horse traders who sometimes wink at the law. Marco can't complete the purchase because he spends all his money to buy a slave from Great Owl, thus saving her life. Graciela accompanies them back to the Double Cross, along with Diego Diaz, one of those traders Marco still owes for the team.
Great Owl's threat to tentative peace between the Kwahadi and the Spanish must be squelched. Marco and Toshua bolster their small army of two with an unexpected ally in Joaquim Gasca, a disgraced former lieutenant with the Royal Engineers. They are joined by Diego Diaz, who turns out to be a key figure from Paloma's past. Adding two shady horse traders and the secretive Graciela, Marco leads his small but determined army north to land contested by both Utes and Comanches. Though woefully outnumbered, they must defeat Great Owl or die trying.
Book 3 in the Spanish Brand series.