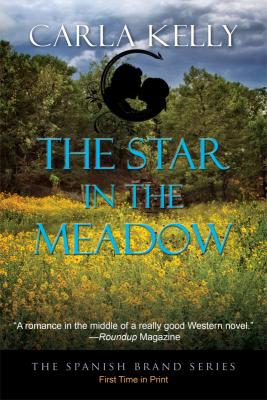 The Star in the Meadow (Spanish Brand #4) (Paperback)
Camel Press, 9781603819923, 256pp.
Publication Date: February 14, 2017
Description
Marco Mondrag n and his wife Paloma are living hectic but happy lives at the Double Cross, on the edge of Comancher a. Five years after the death of Comanche leader Cuerno Verde, cautious diplomacy between the tribe and the colonists is underway to end Comanche raids into New Mexico. Paloma's time has been fully consumed by her two toddlers and newborn son and Marco's by spring planting.
The Seven Year Audit of 1784 arrives and with it comes auditor Fernando Ygnacio. After years of incarceration for a crime he did not commit, Se or Ygnacio is a broken man. Although his daughter Catalina is bitter about his mistreatment by his superiors, her storytelling abilities captivate the household, including a frequent visitor from the nearby presidio, El Teniente Joaquim Gasca, who has been undergoing his own reformation from rascal to leader.
Unknown to him, Marco has peculiar enemies plotting his downfall. When Paloma and Catalina set out on a visit to Marco's sister, meant to give Paloma relief from her busy life, the women are kidnapped. Devastated, Marco is torn between love and duty. He yearns to search for his wife, but feels bound by colonial duties to accompany his friend Toshua to R o Napestle, where Comanches have gathered to debate the region's fragile peace. In his absence from the Double Cross, will Joaquim Gasca and Toshua's wife Eckapeta be able to find the missing women?
About the Author
A well-known veteran of the romance writing field, Carla Kelly is the author of thirty-one novels and three non-fiction works, as well as numerous short stories and articles for various publications. She is the recipient of two RITA Awards from Romance Writers of America for Best Regency of the Year; two Spur Awards from Western Writers of America; two Whitney Awards, 2011 and 2012; and a Lifetime Achievement Award from Romantic Times. Carla's interest in historical fiction is a byproduct of her lifelong study of history. She's held a variety of jobs, including public relations work for major hospitals and hospices, feature writer and columnist for a North Dakota daily newspaper, and ranger in the National Park Service (her favorite job) at Fort Laramie National Historic Site and Fort Union Trading Post National Historic Site. She has worked for the North Dakota Historical Society as a contract researcher. Interest in the Napoleonic Wars at sea led to a recent series of novels about the British Channel Fleet during that conflict. Of late, Carla has written two novels set in southeast Wyoming in 1910 that focus on her Mormon background and her interest in ranching. You can find Carla on the Web at: CarlaKellyAuthor.com.
Advertisement