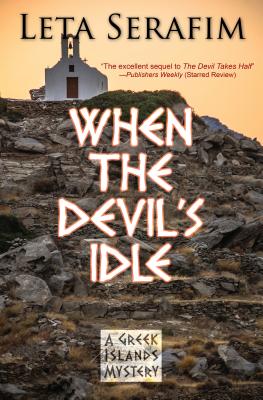 When the Devil's Idle (Greek Islands Mystery #2)
Paperback

* Individual store prices may vary.
Description
In the Book of Revelation, written by St. John on the Greek island of Patmos, it was said a pale horse would appear whose rider was death, others would cry out for vengeance, and the stars of heaven would fall to the earth. Death does indeed come to Patmos when a German tourist is found murdered in the garden of one of the island's fabled estates. Yiannis Patronas, Chief Officer of the Chios police, is called in to investigate. He summons his top detective, Giorgos Tembelos, and his friend and amateur sleuth, Papa Michalis, to assist him. What the policemen discover will disturb them long after the conclusion of the case. Only six people were at the house at the time of the murder-the gardener and housekeeper, the victim's son and his wife and their two children, a boy of seven and a teenage girl of sixteen. All appear to be innocent. But access to the isolated estate is severely restricted. Surrounded by high walls, it has only one entrance: a metal gate that was bolted at the time of the crime. Patronas can only conclude that one of the six is a killer. He continues to probe, uncovering the family's many secrets. Some are very old, others more recent. All are horrifying. But which of these secrets led to murder? Book 2 of the Greek Islands Mystery series, which began with The Devil Takes Half.
Coffeetown Press, 9781603819985, 192pp.
Publication Date: September 1, 2015
About the Author
Leta Serafim graduated from George Washington University in DC with a degree in political science and Russian studies. While in college, Leta worked at the Washington Post, writing obituaries and doing research for the national desk, and later joining the staff of the Los Angeles Times Washington Bureau. Following her marriage to a Greek national, Philip Serafim, Leta moved to Athens. When she moved back to the United States seven years later, she wrote for local papers and the Boston Globe. After her mother began to lose her sight from glaucoma, she began designing and launching multiple media campaigns to increase public awareness of this disease. Leta spends at least one month every year in Greece and has visited over twenty-five islands. The Devil Takes Half is her first novel and the first book in the Greek Islands Mystery series. Coffeetown Press published her work of historical fiction, To Look on Death No More. You can find Leta online at www.letaserafim.com.