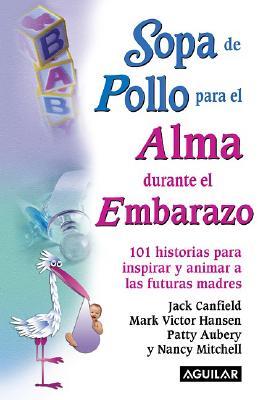 Sopa de pollo para el alma durante el embarazo (Paperback)
Aguilar, 9781603960076, 432pp.
Publication Date: January 1, 2008
Other Editions of This Title:
Paperback (9/26/2012)
* Individual store prices may vary.
Description
"Estás embarazada." Éstas pueden ser las palabras más emocionantes y tal vez las más aterradoras en la vida de una mujer. Empiezas a esperar, observar y prepararte. Nada volverá a ser igual.
Si estás embarazada o esperando adoptar, Sopa de pollo para el alma en el embarazo será el fiel compañero para la nueva madre, los futuros padres (o abuelos), en fin, la familia entera. Las historias que en estas páginas encontrarás te van entretener, relajar e inspirar mientras esperas la llegada del recién nacido. Leer este libro te ayudará a saborear las diferentas facetas de esta experiencia única. Claro, los padres también son parte importante de este viaje, así que incluimos historias desde el punto de vista de ellos.
Como puedes ver, Sopa de pollo para el alma en el embarazo tiene algo para todos. Lo más importante para esta etapa es permanecer inspirada, emocionada y valerosa hasta ese momento indescriptible en el que finalmente puedas tomar en tus brazos al nuevo bebe. ¡Que tengas un feliz y sano embarazo!

ENGLISH DESCRIPTION

Written by expectant mothers, veteran moms and fathers-to-be, these stories relate the physical, emotional and spiritual joys and challenges of each stage of motherhood. Some stories offer hope when the pregnancy isn't medically perfect; others offer light-hearted humor to cope with weight gain, morning sickness and other pregnancy woes. By relaying the insecurities and triumphs of a variety of moms and moms-to-be this book will tug at the heartstrings and ease the fears of any expectant mother.
About the Author
Jack Canfield es autor de la serie de libros Caldo de pollo para el alma , número uno de la lista de bestsellers de The New York Times. Es uno de los maestros que participan en la película y en el libro El secreto. Es fundador y presidente de Self Esteem Seminars y de The Canfield Group, que capacitan a empresarios, líderes corporativos y gerentes en el logro de sus objetivos personales, profesionales y financieros. Lleva más de treinta años enseñando los principios de la ley de la atracción en empresas, organismos de gobierno y universidades de más de treinta países. En la actualidad vive con su familia en Santa Bárbara, California. http://jackcanfield.com/
or
Not Currently Available for Direct Purchase