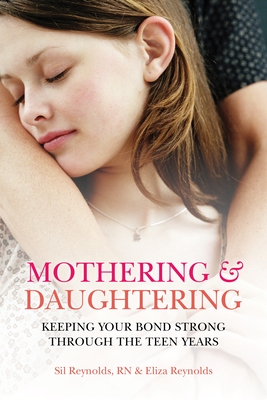 Mothering and Daughtering
Keeping Your Bond Strong Through the Teen Years
Paperback

* Individual store prices may vary.
Description
Mothers and daughters share, and want, a bond for life—one that can remain positive and grow stronger with each passing year. Sil and Eliza Reynolds have designed a set of tools to assist you in nurturing that bond. If you're locked in a clash of wills or fear the prospect of getting into one, with Mothering and Daughtering you can learn how to build the foundation for a deep and lasting relationship that is a source of support, joy, and love throughout your lives.

Offering you two breakthrough guides in one, Mothering and Daughtering was created to help you find and protect the unique treasure that is your relationship. For moms, Sil addresses the central task of stopping the cycle of separation and anxiety that plagues so many, drawing on her clinical expertise to nurture the skills of listening, boundary setting, mirroring, containing, and more. Turn the book over, and Eliza shares empowering advice to teens looking to keep it real with Mom while also finding strength in their own intuition, friendships, and dreams. Packed with practical exercises, activities, and lifesaving insights gleaned from Sil and Eliza's workshops, Mothering and Daughtering explores these essential topics and more:

Your best friend known as your intuition
• Navigating the treacherous territories of comparison, performance, and perfectionism
• Dispelling the rejection myth
• Sex, positive discipline, and how to prevent a technological take-over
• Winning the body love battle
• Healing your emotional legacy
• Humor, truth, trust, and love—instead of trying to be perfect
• Repairing ruptures and getting to the bottom of misunderstandings
• Locating your fundamental bond that always connects you beneath your daily squabbles
"No one, nowhere, connects just like you," write Sil and Eliza. Whether you are already thriving in your relationship or merely surviving, Mothering and Daughtering is an indispensable resource to honor and strengthen that one-of-a-kind connection through the years ahead.
Praise For Mothering and Daughtering: Keeping Your Bond Strong Through the Teen Years…
"What I love most about this book is how honest and down-to-earth Sil and Eliza are about themselves and their relationship. Girls a nd their moms will find comfort and companionship from two people who have themselves struggled -- and who offer strategies and wisdom that will help all of us become more aware, authentic mothers and daughters." —Rachel Simmons, Author of Odd Girl Out and The Curse of the Good Girl

"This book is a precious gem that I wish had been around for my daughters' adolescence. Sil and Eliza give a timeless gift to mothers and daughters to help them deepen their love and understanding of each other before, during, and after adolescence. Moms who dread the thought of raising their daughters in their teen years will value this lifesaver of practical wisdom. Daughters who are in the midst of figuring out who they are separate from their mothers will appreciate Eliza's advice on how to have a supportive relationship with their mothers without constant fighting. Even though my daughters are now wonderful women, I want to share this book with them and look forward to the conversations and new understandings that this book encourages." —Nancy Gruver, Editor New Moon Girls Magazine

"What Sil and Eliza Reynolds teach mothers and their teenage daughters is profound, essential and revolutionary." —Geneen Roth, #1 New York Times bestselling author of Women Food and God

"If these challenges between mother and daughter are a generational thing, Sil has surely broken the pattern with her own daughter." —Jane Fonda, actor and author of My Life So Far

"Sil and Eliza Reynolds' work offers a huge opportunity for mothers and daughters who want to heal and honor soul in their relationship." —Marion Woodman, Jungian analyst and author of Addiction to Perfection

"Mother-daughter conflict during the teen years is neither inevitable nor healthy. There's another way. Read this book and learn how to keep your mother-daughter bond strong and healthy for a lifetime." —Christiane Northrup, MD, author of the New York Times bestseller Women's Bodies, Women's Wisdom

"In this powerful book, Eliza and Sil Reynolds offer mothers and daughters the only kind of wisdom really worth giving-a reminder that the big secret to a resilient bond is nothing less than love. They're voices intermingle authentically and eloquently, a model for us all of shared, intergenerational leadership and the power of courageous communication." —Courtney E. Martin, author of Perfect Girls, Starving Daughters and Do It Anyway

"What you hold in your hands is more than a book-it's a life-line to mothers and daughters who want to move through the teen years with a real, loving, and lasting relationship. Both Sil and Eliza believe that as girls grow away from childhood and toward adulthood, they actually want and need to stay close to their mothers; and that mothers also want and need closeness, even as they help their girls find their own voice and spread their wings. In this guidebook for a new kind of mother-daughter relationship, Sil and Eliza challenge the stereotype of the broken bond between mother and daughter. They provide inspiration and tools honed from their own experience, and from the hundreds of moms and girls they have helped in their workshops. If you are a mother or a daughter who wants to navigate the teen years side-by-side, please read this book." —Elizabeth Lesser, Cofounder, Omega Institute and author of Broken Open: How Difficult Times Can Help Us Grow
Sounds True, 9781604078855, 320pp.
Publication Date: April 1, 2013
About the Author
Eliza Reynolds currently attends Brown University, where she is studying developmental and social psychology, gender studies, political science, dance, and nonfiction writing. Along with a small and diverse group of teenage girls, Eliza recently served as an advisor to Eve Ensler's I Am An Emotional Creature: The Secret Lives of Girls Around the World (Villard, 2010). Eliza was a peer-counselor throughout high school and an S.O.S. trained educator for Planned Parenthood. She continued to use these skills working in Providence city schools as a sexual health educator. For more about Sil and Eliza, please visit motheringanddaughtering.com.

Sil Reynolds, RN is a therapist in private practice specializing in family medicine, women's health, and eating disorders. A graduate of Brown University and Pace University Graduate School of Nursing, Sil did post-graduate work with the renowned Jungian analyst and author Marion Woodman and completed Woodman's three-year BodySoul Rhythms© Leadership Training. Sil has brought her expertise to the Women's Institute at Omega, where she has been an advisor and a workshop leader in the annual Women and Power conferences.
or
Not Currently Available for Direct Purchase