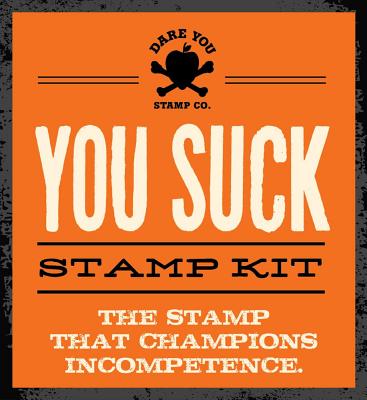 You Suck Stamp Kit (Novelty book)
The stamp that champions incompetence
Cider Mill Press, 9781604334449, 16pp.
Publication Date: April 1, 2014
* Individual store prices may vary.
Description
When being subtle is not an option, this self-inking "You Suck" rubber stamp kit lets you tell incompetent suckers how you really feel. The kit comes complete with a handy "You Suck" booklet filled with creative advice on how and where to harness to power of this brutally honest device.

Let's face it- families disappoint, friends blow you off and coworkers turn their backs on you. Banks are after you, teachers want to fail you; even your favorite sports teams are just a constant letdown. It all comes down to this- people SUCK. Let your feelings flow in ink- permanently- when you stamp "You Suck" stamp across any surface. The stamp kit features a self-inking rubber stamp along with a "You Suck" booklet filled with advice on hilarious and creative uses of your new tool. Whether you're dealing with overdue bills, annoying roommates or the IRS, you're bound to have plenty of opportunities to tell deserving suckers how you feel.
About the Author
The Dare You Stamp Co. was founded in 1776 when noted Philadelphian Jeremiah Dare was hired by the not-yet Founding Fathers to print draft copies of the Declaration of Independence. When the documents arrived at Independence Hall, an unfortunate typo read "When in the Curse of human events…" So irate was George Washington that he said "The foolish and wicked practice of profane cursing and swearing is a vice so mean and low that every person of sense and character detests and despises it." Dare's instinct was to simply reply, "Fuck You." Today, the Dare You Stamp Co. continues on as a belligerent subset of Cider Mill Press.
or
Not Currently Available for Direct Purchase