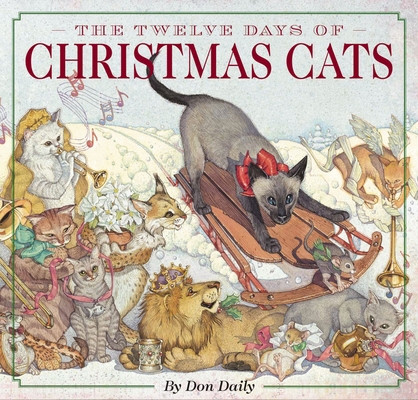 The Twelve Days of Christmas Cats (Hardcover)
Applesauce Press, 9781604334951, 48pp.
Publication Date: October 21, 2014
Other Editions of This Title:
Board book (8/13/2019)
Board book (8/4/2020)
* Individual store prices may vary.
Description
Don Daily's legacy continues with this new edition of The Twelve Days of Christmas Cats, featuring all original illustrations of each of the twelve Christmas Cats in feline fashion.

First published in 1998, The Twelve Days of Christmas Cats is a beloved picture book with full color illustrations by Don Daily. The traditional twelve days of Christmas poem is creatively transformed, with each spread featuring one of the twelve cats with its resepective adorable artwork. Siamese, leopards, persians, calico cats and kittens playfully ring in Christmas cheer as they dance across the pages of this heartwarming classic.
About the Author
DON DAILY (1939-2002) A native of Trenton, NJ, Donald A. Daily served in the United States Navy for four years before attending Trenton Junior College. He continued his studies with a full Merit Scholarship to Art Center College of Design in Los Angeles and graduated in 1968 with a BFA in Illustration. Moving to Philadelphia, PA, he began his career as a freelance illustrator, represented by New York agents Frank and Jeff Lavaty. Over the next 24 years, he worked on national advertising, motion picture, and editorial accounts. Clients included: TWA, Equitoriana Airlines, Coleco Toys, U. S. Army National Guard, Weyerhauser Paper, Reader's Digest Condensed Books, Spider Magazine, Highlights Magazine, Cosmopolitan Magazine, TV Guide, and the Franklin Library. He created covers for Dell, Fawcett, and Doubleday Publishers, and posters for "The Great Santini", "California Suite", "The Four Seasons", "Roots", and "Cheers". In addition to his illustration work, Don painted private oil portrait commissions and was a Certified Member of the American Portrait Society. He was also an honored member of The New York Society of Illustrators, where his work appeared annually in juried shows. From 1989-1991, Don was an Instructor of Illustration at the University of the Arts in Philadelphia. In 1992, Don began working exclusively on children's books, completing nine books for Philadelphia publisher Running Press and one for Dial Books before his death. Sales of his books currently reach almost 2,000,000 copies, in eight languages. Don was a frequent guest speaker at book stores, libraries, and elementary schools. His book illustrations were in many regional group shows including Rosenfeld Gallery, Art in City Hall, Main Line Art Center, and Markham Art Center. He had one-man exhibits of his children's book paintings at the University of the Arts, Cabrini College, Main Line Art Center, and the Educational Testing Service of Princeton, NJ. Don's children's illustrations reflect his joy of life and passion for painting. A meticulous painter of detail and superb colorist, his work is infused with humor and humanity. Don spent about nine months on each book, from his initial conceptual sketches, through the design and layout phases, to the finished paintings in water color and gouache. His partnership with Running Press allowed him free-reign in all stages of the process. He researched costumes, locations, and the myriad of details necessary to create such convincing and charming illustrations. He used himself, his wife and two children, and his friends as models for his book characters, and transformed them as needed into witches, princesses, farmers, and even animals, through the magic of his active imagination and incredible drawing skills. Children's books illustrated by DON DAILY: 1993 1994 1995 1996 1997 1998 1999 2000 2000 2001 2006 2006 The Classic Tale of The Wind in the Willows, Kenneth Grahame The Classic Tale of The Jungle Book, Rudyard Kipling The Classic Tale of Brer Rabbit, Joel Chandler Harris The Nutcracker, E. T. A. Hoffman The Velveteen Rabbit, Margery Williams The Twelve Days of Christmas Cats, Don Daily The Classic Treasury of Aesop's Fables The Twelve Days of Christmas Callie Ann and Mistah Bear, Robert D. SanSouci The Classic Treasury of Grimm's Fairy Tales Don Daily's Classic Children's Storybook Collection Don Daily's Gifts of Christmas