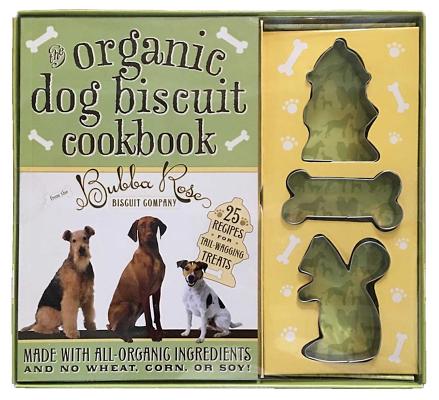 The Organic Dog Biscuit Kit (Paperback)
Cider Mill Press, 9781604336917, 48pp.
Publication Date: September 27, 2016
* Individual store prices may vary.
Description
Featuring three adorable cookie cutters in dog-friendly shapes and a delightful recipe book full of organic dog treats, this is the perfect gift for any dog lover!

It's so easy to please your best pal with a special treat-now how about some that are super-yummy, easy to make, and organic? The very best! With the Organic Dog Biscuit Cookbook Kit from Bubba Rose Biscuit Company, you'll find 25 ways to do it- and all of the treat recipes are free of wheat, corn and soy. The kit even includes cookie cutters to make fun shapes.

In The Organic Dog Biscuit Cookbook Kit you'll find recipes for treats like:

Pawlickin' Chicken
Tuna Melt
Canine Quiche
Energy Barks
Pumpkin Muttins
Dragon Slayers
And many more!

Praise for THE ORGANIC DOG BISCUIT COOKBOOK (included in this wonderful kit):

"Lots of healthy tips..." -Laurie Denger, Dayton Daily News

"Woof worthy!" -Sean Bugg, Washington Weekly (DC)

"A pleasure to read, and includes a wonderful variety of both recipes and information." -The Bark magazine

"Spoiling your pooch with treats is one of the great joys of sharing life with a dog. With this book from the Bubba Rose Biscuit Company, you'll have more than 100 ways to do it....." -The Times (Indiana)
About the Author
The Bubba Rose Biscuit Company was founded by Jessica Disbrow Talley and her husband, Eric Talley, to provide healthy, preservative-free treats for their dogs and their dogs' friends in Brooklyn, NY. Word spread, and now dogs around the world are requesting their goodies. You can, too, by visiting them at www.bubbarosebiscuitco.com.