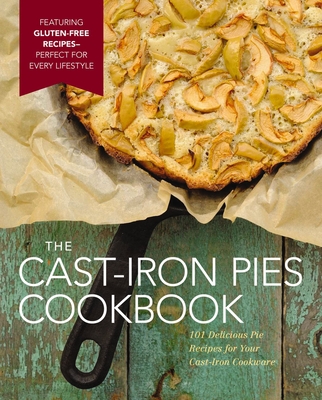 The Cast-Iron Pies Cookbook
101 Delicious Pie Recipes for Your Cast-Iron Cookware
Hardcover

* Individual store prices may vary.
Description
An elegant presentation of more than 100 sweet and savory pies tailor-made for everyone's favorite cooking tool—the cast-iron skillet!

Cookbook author Dominique DeVito presents a mouthwatering collection of over a hundred pies, perfect for cast-iron skillets. Complete with gorgeous food photography and a wide range of recipes for fruit, nut, and cream pies, as well as quiches, tarts, galettes, and more. Here are just a few of the recipes this definitive cast-iron pie book features:

*Deep-Dish Apple Pie
*Maple Pumpkin Pie
*Chocolate Mousse Pie
*Piña Colada Pudding Pie
*Gluten-Free Grapefruit Custard Pie
*Salted-Caramel Pecan Pie
*Quiche Lorraine
*Tex Mex Quiche
*Broccoli-Cheddar Quiche
*Ginger Key Lime Tart
*Strawberry-Kiwi Tart
*Triple Berry Galette
*Nectarine-Raspberry Galette
*Shepherd's Pie
*Chicken and Artichoke Heart Pot Pie
*Tomato, Chévre, and Basil Tart

With tips and tricks dedicated to the care and keeping of your cast-iron tools, this is the perfect pick for up-and-coming chefs and experts alike.
Cider Mill Press, 9781604336955, 256pp.
Publication Date: April 4, 2017
About the Author
Dominique DeVito grew up on a farm in Chester Springs, Pennsylvania, and attended Mount Holyoke College and the University of Pennsylvania. She published numerous bestselling animal care series with multiple publishers including Idiot's Guides, For Dummies, and Animal Planet, and is the author of The World Atlas of Dog Breeds and Beekeeping: A Primer. She co-founded the highly acclaimed Hudson-Chatham Winery in early 2006. Dominique has appeared in USA Today, Martha Stewart Living, and on The Food Network multiple times. She has published such kitchen favorites as Country Living 500 Kitchen Ideas, Cast-Iron Skillet Cookbook, The Cast-Iron Baking Book, Christmas Slow Cooking, Paleo Slow Cooking, and Cast-Iron Pies Cookbook.