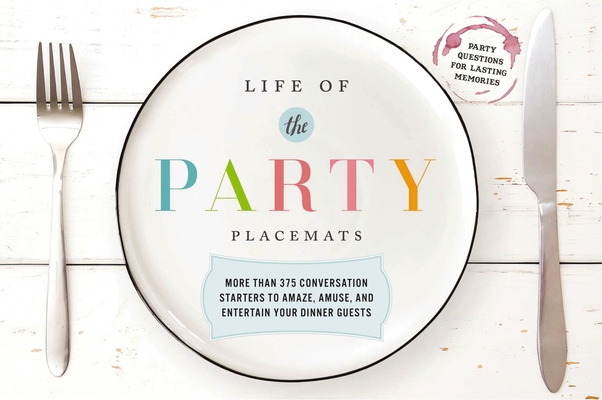 Life of the Party Placemats (Novelty book)
More than 375 conversation starters to amaze, amuse, and entertain your dinner guests
Cider Mill Press, 9781604337259, 25pp.
Publication Date: October 3, 2017
* Individual store prices may vary.
Description
Let's get this party started! Liven up any dinner party with this elegant conversation-starting addition to your table setting.

Life of the Party's beautifully illustrated placemats are designed with your dinner party in mind, with more than 375
questions at the ready from the start of cocktails and appetizers, through dinner and dessert. There's no shuffling or
rearranging required, just good food and good conversation! These pleasing placemats will brighten up any table, and
add an alluring touch of flair to your next social event. With 24 different placemats, you can entertain from just two
up to two dozen! Here are just a few of the questions you'll find:
*What would be the hardest skill for you to give up?
*If you were born 100 years ago, what do you think your occupation would be?
*What's the smallest amount of money that would make the biggest difference in your life?
*How would you explain different colors to a blind person?
*Have you ever lied to get out of a date?
It's creative! It's inventive! It's decorative! And most of all, it's FUN! It's The Life of the Party!
About the Author
Good ideas ripen with time. From seed to harvest, Applesauce Press crafts books with beautiful designs, creative formats, and kid-friendly information on a variety of fascinating topics. Like our parent company, Cider Mill Press Book Publishers, our press bears fruit twice a year, publishing a new crop of titles each spring and fall.