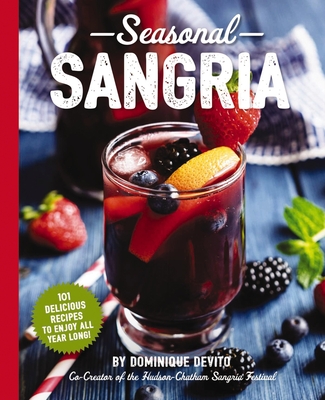 Seasonal Sangria
101 Delicious Recipes to Enjoy All Year Long! (Wine & Spirits Recipes, Cookbooks for Entertaining, Drinks & Beverages, Seasonal Books) (The Art of Entertaining)
Paperback

* Individual store prices may vary.
Description
Sangria isn't just for summer! Add flavor to your gatherings and spice up your parties all year long.

No matter the season, no matter the occasion, and no matter your mood there is a sangria for you. From traditional red wine to sparking and frozen sangrias, Seasonal Sangria is perfect for anyone interested in sangrias. This cocktail book will help you know everything there is to know about making and enjoying this worldwide favorite. Co-creator of the Hudson-Chatham Sangria Festival, author Dominique DeVito expertly pairs wine and seasonal fruit, creating bold new flavors while putting fresh twists on classic favorites. Take your sangria to the next level with:

- 101 Sangria recipes to enjoy for every season of the year
- A history and overview with all of the things you never realized you didn't know about sangria
- Sangri-dients outlines all of the necessary ingredients to make the perfect sangria, including tips for choosing wine and glassware
- Red wine sangrias, white wine sangrias, sparking wine sangrias, rose and frozen sangrias, and cheater-grias all have dedicated chapters and recipes that compliment their taste
- Sangria for a Crowd provides sangria recipes for large gathering
Cider Mill Press, 9781604337921, 224pp.
Publication Date: May 8, 2018
About the Author
Dominique DeVito grew up on a farm in Chester Springs, Pennsylvania, and attended Mount Holyoke College and the University of Pennsylvania. She published numerous bestselling animal care series with multiple publishers including Idiot's Guides, For Dummies, and Animal Planet, and is the author of The World Atlas of Dog Breeds and Beekeeping: A Primer. She co-founded the highly acclaimed Hudson-Chatham Winery in early 2006. Dominique has appeared in USA Today, Martha Stewart Living, and on The Food Network multiple times. She has published such kitchen favorites as Country Living 500 Kitchen Ideas, Cast-Iron Skillet Cookbook, The Cast-Iron Baking Book, Christmas Slow Cooking, Paleo Slow Cooking, and Cast-Iron Pies Cookbook.