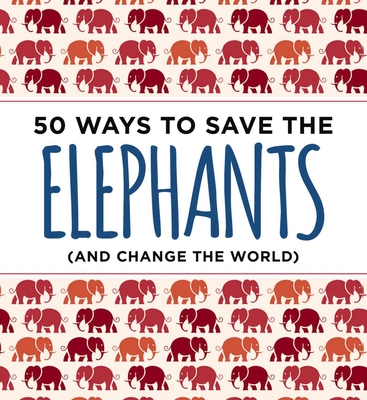 50 Ways to Save the Elephants (and change the world)
Paperback

* Individual store prices may vary.
Description
Discover the simple and considerate things YOU can do to save the elephant- and the world!

In recent years, the global elephant population has diminished rapidly in recent years. Both Asian and African elephants face a number of grave threats, including poaching and loss of habitat. African elephant numbers are estimated to have dropped by 30% in the past decade alone.

These beautiful creatures need your help more than ever, but it's never been so easy to make a difference. 50 Ways to Save the Elephants is packed with steps you can take to help elephant populations recover and protect elephants in captivity.

Whether it's engaging in online activism from your home, helping to reduce climate change, or being a conscientious consumer and traveler, these simple contributions will benefit more than just the elephants - they also help make a difference in our community and the world!


Cider Mill Press, 9781604337990, 160pp.
Publication Date: September 4, 2018
About the Author
About Isabel S. Abrams (Author)
Isabel S. Abrams is a science, health and environmental writer who graduated from the University of Michigan with a Master of Science degree in Zoology. She did research, taught science, and wrote science songs before she was hired as science editor and feature writer for Current Health 2, Current Energy and Ecology, and Science Challenge magazines. She is also the author of The Nature of Chicago, a guidebook to the city's natural treasures, and co-founder of Caretakers of the Environment International, a network of high school teachers and students, which was honored at the Global Assembly of Women and the Environment.

About Laurel Neme (Foreword writer)
Laurel Neme, Ph.D. is the author of Animal Investigators: How the World's First Wildlife Forensics Lab is Solving Crimes and Saving Endangered Species, a "CSI for wildlife" that follows three true cases of the illegal wildlife trade, and two non-fiction picture books: Orangutan Houdini, about an orangutan who outsmarts his zookeeper, and The Elephant's New Shoe (forthcoming), about an elephant with a prosthetic foot. She contributes regularly to National Geographic, Mongabay.com, and The Revelator, and holds a Ph.D. from Princeton University and a Master's in Public Policy from the University of Michigan.