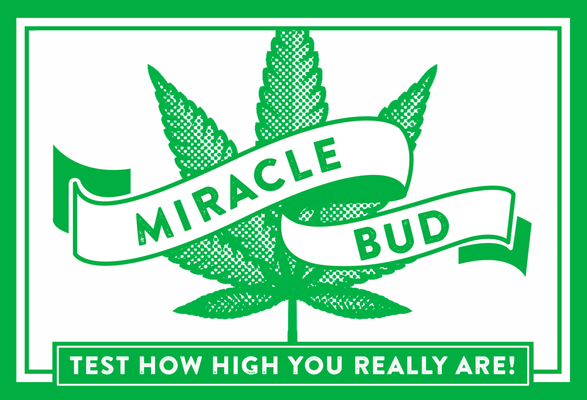 Miracle Bud (Novelty book)
Test How High You Really Are
Cider Mill Press, 9781604338157, 64pp.
Publication Date: October 16, 2018
* Individual store prices may vary.
Description
How high are you? Let Miracle Bud tell you. No matter what level of stoned you are, this book will help you enjoy the buzz.

Portend the potency of your pot with Miracle Bud. Place the Miracle Bud Leaf in the palm of your hand, watch how it moves, and then consult the "Levels of Stoned" table to see if you are Buzzed, Blazed, or Zzzzzz. Then get lost in the hilarious illustrations and mind-bending facts, figures, and deep thoughts that will help you enjoy the high. Need something to do with your session friends? Activities abound, like making up dialogue to muted television shows. Got the munchies? No problem, microwave recipes will satisfy your cravings quickly. Need to laugh more? Check out the twisted trivia. Miracle Bud is the perfect companion for when you smoke pot.
About the Author
Good ideas ripen with time. From seed to harvest, Cider Mill Press brings fine reading, information, and entertainment together between the covers of its creatively crafted books. Our Cider Mill bears fruit twice a year, publishing a new crop of titles each spring and fall. Cider Mill Press is an independent publisher of high-quality cookbooks, elegant wine and spirits projects, humorous parodies, classic children's books, and more. We're proud to publish many celebrated bestselling titles, including the #1 New York Times bestselling edition of The Night Before Christmas. Along with our children's imprint, Applesauce Press, we combine top-notch design, unique formats, and fresh content to create truly innovative gift books.