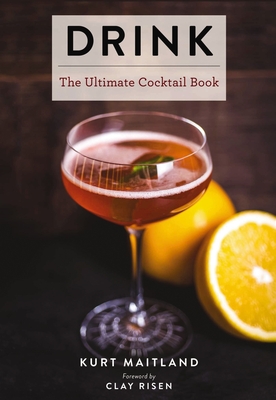 Drink (Ultimate) (Hardcover)
Cider Mill Press, 9781604338317, 848pp.
Publication Date: April 30, 2019
* Individual store prices may vary.
Description
"There are many great cocktail books, but this is the only cocktail book you'll ever need." -- Clay Risen

Featuring over 1,100 recipes that span the wide world of spirits, Drink is the definitive reference guide for the cocktail renaissance.

Easy-to-follow recipes sure to satisfy everyone's tastes

A comprehensive guide to homemade ingredients, including infusions, shrubs, and simple syrups

Detailed explanations of tools of the trade, garnishes, and ice

Interviews and signature recipes from bars and bartenders the world over, from New York City to New Orleans, Belfast to Buenos Aires, and beyond

Overviews of core spirits

Colorful histories of classic cocktails

90+ mocktails and nonalcoholic infusions

When the spirit strikes, Drink is your go-to guide!
About the Author
Clay Risen, the deputy op-ed editor at The New York Times, is the author of Single Malt: A Guide to the Whiskies of Scotland (October, 2018) and the spirits bestseller American Whiskey, Bourbon & Rye: A Guide to the Nation's Favorite Spirit. Now in its sixth printing with more than 100,000 copies sold, his groundbreaking guide has quickly become the bible on American whiskey and placed Risen at the top of authorities on the history, business, and diversity of U.S. spirits. Risen has given numerous talks, appeared on television, and served as a judge on multiple spirit award committees. Risen has written widely about spirits for newspapers and magazines including The New York Times, Forbes, The Atlantic, and the Washington Post. He is the author of several popular American histories, including A Nation on Fire: America in the Wake of the King Assassination, The Bill of the Century: The Epic Battle for the Civil Rights Act, and the forthcoming The Crowded Hour: Teddy Roosevelt, the Rough Riders and the Dawn of the American Century. He grew up in Nashville, Tennessee, and now lives in Brooklyn, New York, with his wife and two young children.