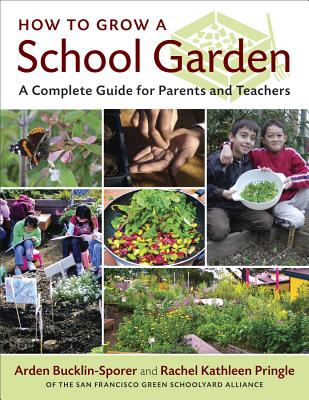 How to Grow a School Garden (Paperback)
A Complete Guide for Parents and Teachers
Timber Press, 9781604690002, 224pp.
Publication Date: June 30, 2010
* Individual store prices may vary.
Description
"A school garden is a tremendously valuable tool to help young people turn book knowledge into real experience. This book is a must-have resource for anyone considering embarking on a youth gardening adventure." —Mike Metallo, President, National Gardening Association

In this groundbreaking resource, two school garden pioneers offer parents, teachers, and school administrators everything they need to know to build school gardens and to develop the programs that support them. Today both schools and parents have a unique opportunity—and an increasing responsibility—to cultivate an awareness of our finite resources, to reinforce values of environmental stewardship, to help students understand concepts of nutrition and health, and to connect children to the natural world. What better way to do this than by engaging young people, their families, and teachers in the wondrous outdoor classroom that is their very own school garden?

It's all here: developing the concept, planning, fund-raising, organizing, designing the space, preparing the site, working with parents and schools, teaching in the garden, planting, harvesting, and even cooking, with kid-friendly recipes and year-round activities. Packed with strategies, to-do lists, sample letters, detailed lesson plans, and tricks of the trade from decades of experience developing school garden programs for grades K–8, this hands-on approach will make school garden projects accessible, inexpensive, and sustainable.
About the Author
Arden Bucklin-Sporer is executive director of the San Francisco Green Schoolyard Alliance, an advocacy organization for school gardens and outdoor classrooms. She is the director of educational gardens for the San Francisco Unified School District, and a founding partner of Bay Tree Design, Inc., a landscape architecture firm. Arden has worked with green schoolyards and public school gardens for over a decade, building an award-winning school garden program as a public school parent and working closely with school districts at the local, state and national level. Her interest in urban agriculture is fueled by her family's organic farm and vineyard in Sonoma County, CA. Arden lives in San Francisco and Sonoma with her husband and three mostly grown sons.

Rachel Pringle is the chief strategy officer at Education Outside, where she co-founded the first national service corps dedicated to teaching hands-on science in the school garden. She has worked in environmental education since earning a master's degree in conservation biology at the University of Pennsylvania.
Praise For How to Grow a School Garden: A Complete Guide for Parents and Teachers…
"This book will be a well-thumbed resource in many school and public libraries. . . . Strongly recommended." —Library Journal    
   
"This is my bible on starting a school garden." —Huffington Post

"Easy-to-read, informative, and visually pleasing—any parent or teacher considering a school garden will find a wealth of information in this book." —American Gardener    

"[Introduces] the joys and benefits of digging in the dirt to kids who might not otherwise get the chance." —Chicago Tribune

"This terrific guide is filled with detailed, practical guidelines for organizing and running a school garden." —SciTech Book News

"Offers all the instruction necessary to plan for and maintain a school garden."  —Bookwatch   

"This book is a treasure trove of good advice and innovative ideas. From the usual 'what to grow' and 'how to garden' to using the garden as a teaching tool and creative starting point. . . . Fabulous resource for schools but also families who want to get more out of their patch of land." —San Francisco Chronicle

"The bounty of information is presented in ways that will generate excitement and provide inspiration. [An] excellent manual for teachers and parents." —CoffeeMom
 
"Fabulous resource for schools but also families who want to get more out of their patch of land." —WhipUp.net
 
"A practical, schematic guide to getting a school garden off the ground, with well-written advice for getting buy-in from a school's administration, how to fundraise effectively, and even how to organize volunteers on the first day of garden-breaking." —Grist

"As a former early childhood educator and one who gardened with her students, let me say that I wish this book would have existed when I was in the classroom. How to Grow a School Garden takes away the guesswork and provides tip after tip from two women who have many ears of school garden experience under their belts…This book is a must-read for anyone (parent or teachers) interested in bringing gardens to their own school community." —Rocky Mountain Land Library