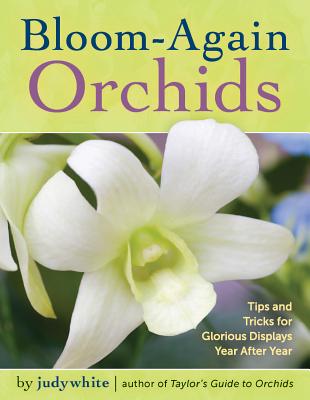 Bloom-Again Orchids
50 Easy-Care Orchids that Flower Again and Again and Again
Paperback

* Individual store prices may vary.
Description
Orchids have a reputation as the divas of the plant world: fussy, difficult-to-grow plants that—on top of all that—are prohibitively expensive. But there are plenty of orchids that anyone can grow. Orchids are no more difficult than familiar houseplants such as the African violet, and can be made to thrive and bloom in average indoor conditions. You just need to know what makes them happy.

Bloom-Again Orchids highlights the easiest, most fuss free varieties and includes invaluable tips on where to buy orchids and how to keep them in bloom. Each of the fifty profiles focuses on a commonly available orchid variety and includes a description, photograph, chart of basic growing requirements, and a handy twelve-point checklist.
Praise For Bloom-Again Orchids: 50 Easy-Care Orchids that Flower Again and Again and Again…
"Think orchids are fussy? Author and orchid expert judywhite is out to prove otherwise." —Akron Beacon Journal

"Anyone who has ever succumbed to the charms of an orchid at the grocery store and then despaired when it quit blooming will gain a lot of confidence from this helpful guide." —Hartford Courant

"Here's hope for all who love orchids but fear that they are too difficult to keep alive." —Lexington Herald-Leader

"Will help you figure out how to make your surroundings lush, fragrant, and slightly more reminiscent of the balmy days of summer." —Buffalo Spree

"With this book at your side and a little effort, you too can grow orchids that will be the envy of the neighborhood." —Our Little Acre blog

"judywhite brings all her formidable talent to bear on Bloom-Again Orchids. The photos. . . . draw you in and the writing keeps you there." —The Oregonian

"Here's hope for all who love orchids but fear that they are too difficult to keep alive." —Chattanooga Times Free Press

"If you're thinking of buying an orchid, consult this book first. The orchid will thank you." —Oklahoma Gardening Examiner

"After reading [judywhite's] tricks for growing orchids. . . . you may never let your fear of orchids keep you from plunking down the change for them ever again." —Hoe and Shovel blog

"If you're interested in growing orchids, this is an extremely accessible reference book that will most certainly whet your appetite for growing more." —About.com
 
Timber Press, 9781604690552, 132pp.
Publication Date: November 28, 2009
About the Author
judywhite is author and photographer of the award-winning Taylor's Guide to Orchids (Houghton Mifflin 1996). A past trustee of the American Orchid Society (AOS), she has earned its highest prize for writing about orchid culture, as well as the AOS Silver Medal for outstanding service to the orchid community. Her photography has graced many books and publications, and has been exhibited at the Smithsonian Institution. A former research biologist and past editor-in-chief of one of the world's first mega-gardening Web sites, Time Life's Virtual Garden, judywhite is married to British garden writer Graham Rice. She is proud to say she has killed orchids on both sides of the Atlantic. Visit her Web site at www.gardenphotos.com.