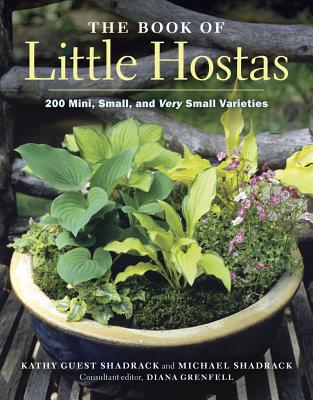 The Book of Little Hostas (Hardcover)
200 Small, Very Small, and Mini Varieties
Timber Press, 9781604690606, 208pp.
Publication Date: November 24, 2010
* Individual store prices may vary.
Description
Hostas are irresistible. Their sculptural leaves and appealing textures make it difficult to stop at one, and it is easy to fill a garden with them. Help is at hand with this attractive guide to the popular new small hostas that take up less space and are ideally suited to container cultivation. They can be used on their own or with companion plants to make charming displays on the patio, porch, or even windowsill.
Many small hostas are simply scaled-down versions of classic hostas, while others offer distinctly new attributes in terms of color, leaf shape, and patterning. Like full-size hostas, small hostas can be upright, flat, or cascading; there are varieties that are full of substance, and others that are fine and delicate; there are green ones, gold ones, blue ones, variegated ones, and splashed ones. Some are better garden plants than others, and a valuable function of this book is to showcase the very best of the new introductions. Photographs of the hostas in garden settings show how admirably they respond to imaginative display in a wide range of situations including waterside, woodland, and rock gardens.
Beautifully illustrated and highly informative, this handpicked selection of diminutive hostas will inspire hobbyists and gardeners alike and provide inspiration for new planting schemes.
About the Author
Kathy Guest Shadrack gardens passionately in Western New York. She has held office in the American Iris Society, the American Hosta Society, and was instrumental in creating a local daylily club. She gardens at Smug Creek Gardens (smugcreekgardens.com), maintianing collections of primula, polygonatums, epimediums, lilium, and more.
Michael Shadrack is a photographer and active member of the British Hosta and Hemerocallis Society and the American Hosta Society. He regularly lectures in North America and Europe, and is an avid hybridizer. With his wife, Kathy Guest Shadrack, he keeps five distinct gardens at Smug Creek, New York. Learn more at smugcreekgardens.com. 
Praise For The Book of Little Hostas: 200 Small, Very Small, and Mini Varieties…
"Useful and beautifully illustrated." —Kirkus Reviews

​"If you love hostas already, you'll love this book. If you didn't love them before, you'll love this book andlittle hostas." —Gardening by the Book

"If you still think of hostas as big, boring, and plain old green, take a look." —Philadelphia Inquirer

"Well-written and with beautiful images, this book is a valuable addition to any gardener's library." —The Gardener for the Prairies Magazine

"I didn't know much about hostas before reading this book. . . but after reading Little Hostas, I've fallen in lust with several of these diminutive plants." —Life on the Balcony