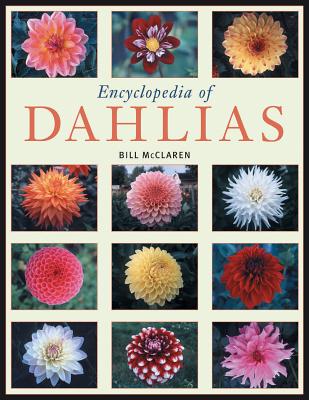 Encyclopedia of Dahlias  (Paperback)
Timber Press, 9781604690637, 212pp.
Publication Date: January 23, 2009
* Individual store prices may vary.
Description
In this delightful and profusely illustrated encyclopedia, noted hybridizer and nurseryman Bill McClaren provides an authoritative account of garden-worthy dahlias for every garden design. Nearly 700 selections are included, complete with notes on their history, awards, and cultural peculiarities. Additional chapters on dahlia care and propagation, dahlia species in nature, hybridizing, and showing dahlias add to this well-rounded overview. Thorough appendices with resources on dahlia societies, nurseries, and gardens complete the book.

This book is only available through print on demand. All interior art is black and white.
About the Author
Bill McClaren has been growing and showing dahlias for nearly 50 years. For the past 20 years, he has hybridized all forms of dahlias; over 100 of his varieties are listed in the American Dahlia Society's ADS Classification and Handbook of Dahlias. After retiring from a 30-year career as an educator, he owned and operated, together with his wife, Alpen Gardens, a commercial dahlia nursery, for 20 years. He is a member of the American Dahlia Society. He is a Senior Judge and instructs dahlia judging schools throughout the northwestern United States and Canada. His articles have been published in the Bulletin of the American Dahlia Society and Dahlias of Today.
Praise For Encyclopedia of Dahlias …
"Useful for novice and expert alike, this encyclopedia belongs in any reference collection." —American Reference Books Annual

"One has to have good, strong and healthy plants. This book will help you achieve this; of that there is no doubt at all." —Gardening Newsletter
 
"Draws on McClaren's 50 years of experience in growing dahlias." —Newark Star-Ledger

"After reading this book, I may have to dig a new bed just for the varieties I know I have to have! Another terrific encyclopedic reference for your gardening library." —Garden Themes

"This title is recommended for libraries and individuals interested in adding quality works on gardening and plants." —E-Streams

"The Encylclopedia of Dahlias offers more color photographs than any other book on this flower." —Bloomin' News

"A comprehensive study that serious gardeners will want to have in their collection." —Cleveland Plain Dealer

"A comprehensive guide to American-grown dahlias." —Northern Gardener

"A beautiful book for anyone who finds dahlias endearing." —Northwest Gardens

"In addition to being a mine of information it is attractively presented and most generously illustrated." —Herbertia