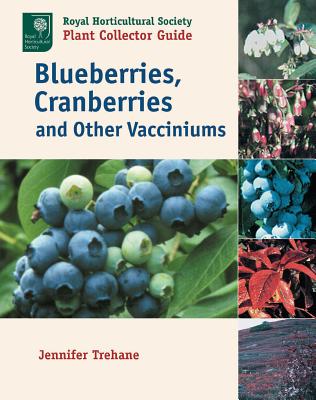 Blueberries, Cranberries and Other Vacciniums (Paperback)
Timber Press, 9781604690729, 272pp.
Publication Date: March 3, 2009
Other Editions of This Title:
Hardcover (3/15/2004)
* Individual store prices may vary.
Description
This addition to our series offers a wealth of information and advice on growing blueberries, cranberries, lingonberries, and dozens of lesser-known relatives otherwise known as vacciniums. Jennifer Trehane explores the historical, ornamental, and edible aspects of Vaccinium, a diverse genus of more than 400 species. The culinary importance of these berry-bearing plants is well known, but too few people are aware of their ornamental potential. Many of the plants described in these pages have brightly colored young growth, flowers that are sometimes scented, and either evergreen or deciduous leaves with brilliant fall color. Some vacciniums become large, bold shrubs, while others remain small and compact, making them ideal for containers and small gardens.

This book is only available through print on demand. All interior art is black and white.
About the Author
Jennifer Trehane and her son have an expanding blueberry business, including a nursery in Dorset, England, that specializes in blueberries, cranberries, and related plants. She obtained a Bachelor of Science in horticulture from the University of Reading and then helped her father plant the first thousand blueberry plants that became the basis of the family business. Her other passion is camellias; she is a past vice president of the International Camellia Society and author of Camellias.
Praise For Blueberries, Cranberries and Other Vacciniums…
"This book is recommended for public, horticultural, and agricultural libraries." —American Reference Books Annual

"Very fine color photographs illustrate the book, emphasizing the delightful visual qualities of these plants in cultivation and in the wild." —American Rhododendron Society Journal

"Given the association of [the Royal Horticultural Society] and of Timber Press with this book, the reader expects clarity, lots of helpful images, and a combination of botanical information and horticultural instructions. The reader gets exactly this and more." —Plant Science Bulletin

"Here you'll find not only detailed descriptions of hundreds of varieties, but extensive information on the selection and growing of blueberries as well as their propagation." —Newark Star-Ledger

"Very few books set me drooling and rushing out to mark planting holes before I've even got the plants. This one has." —Kitchen Garden

"This fascinating book should be on the bookshelf of every gardener in Scotland and northern England." —Journal of the Scottish Rock Garden Club

"Inspirational to anyone who wishes to grow these wonderful plants." —Wild Foods Forum

"Covers more than 400 species of these fruit-bearing plants." —Avant Gardener

"Highly recommended pick for any in-depth gardening library ... packs in technical growing advice." —Library Bookwatch

"Pioneering." —Bookseller

"It is a delightful book on many levels, and I recommend it without reservation." —Heather News