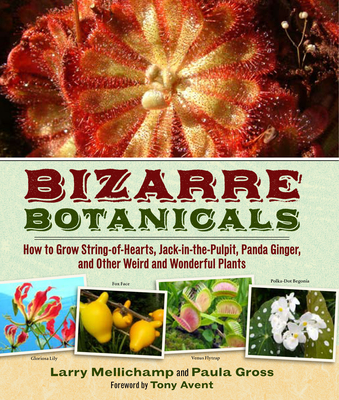 Bizarre Botanicals (Hardcover)
How to Grow String-of-Hearts, Jack-in-the-Pulpit, Panda Ginger, and Other Weird and Wonderful Plants
Timber Press, 9781604690767, 284pp.
Publication Date: October 13, 2010
* Individual store prices may vary.
Description
Gardeners love tulips, lilies, and pansies—the common, but beautiful, plants found in the average garden. But there are realms in the plant world far beyond these familiar favorites. In Bizarre Botanicals, plant experts Larry Mellichamp and Paula Gross take readers on a curious botanical journey of weirdly wonderful plants that can be grown at home.

Bizarre Botanicals features over 75 astonishing plants that have extraordinary abilities—from pyrotechnic spores that can burst into flame when ignited to flowers that lure insects to their deaths. Each plant profile includes essential care and cultivation information. A difficulty scale alerts gardeners to how easy (or difficult) it is to grow the plant at home.

There's no reason to forsake lilies and petunias. But after reading Bizarre Botanicals, gardeners will want to take a walk on the weird side and try a few of these peculiar plants for themselves.   
About the Author
Paula Gross is the assistant director of the University of North Carolina Charlotte Botanical Gardens. She has a masters in horticulture from the University of Georgia, and teaches courses on horticulture and plant identification. In addition, she writes a periodic column on horticultural issues and provides information on gardening questions.

Larry Mellichamp teaches botany at the University of North Carolina at Charlotte and was director of the University's botanical gardens. He has appeared regularly in various media and received several teaching awards including the B. W. Wells Award from the North Carolina Native Plant Society and the Tom Dodd Jr. Award of Excellence.
Praise For Bizarre Botanicals: How to Grow String-of-Hearts, Jack-in-the-Pulpit, Panda Ginger, and Other Weird and Wonderful Plants…
"Complete with seductive photographs and a lighthearted but substantive text." —The New York Times

"An informative and visually arresting book devoted to a dizzying array of plants not frequently found in typical American gardens. Perfect for gardeners of all levels who wish to cultivate out-of-the-ordinary plants and for armchair gardeners interested in thumbing through photographs of unusual botanicals." —Library Journal

"A must for any gardener with access to a hothouse and a desire to grow something out of the ordinary. From strange orchids to voodoo lilies, beehive-shaped ginger and honey locust, each plant includes difficulty ratings, hardiness zones, growing needs, and even height and spread." —Midwest Book Review

"A fun, easy read." —Toronto Star

"For the gardener who wants to stretch beyond the everyday into the realm of ... wicked fun." —Houston Chronicle

"If you seek entertainment while your garden sleeps, give Bizarre Botanicals a whirl." —Philadelphia Inquirer

"From carnivorous plants to orchids and succulents, this book is a beauty, even if you only marvel at the photos." —Omaha World-Herald

"A plant zoo of animal look-alikes." —San Antonio Express-News

"Bright, full-page photos add to the fascination as readers discover nature's most mysterious plants." —Our State

"Beautifully illustrated." —SciTech Book News

"This is one of the most entertaining plant books you're likely to find anywhere." —Bamboo and More

"A fun and fascinating encyclopedia of weird plants that boast such qualities as freaky displays of sex death and botanical wizardry." —Norfolk Virginian-Pilot