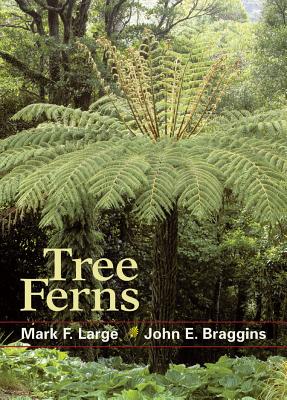 Tree Ferns (Paperback)
Timber Press, 9781604691764, 360pp.
Publication Date: November 27, 2009
* Individual store prices may vary.
Description
Tree ferns in the landscape command the attention of both devoted gardeners and casual passersby. Their stately form resembles that of the palm tree and evokes a feeling of the quintessentially exotic. This volume is the source for information on the living tree ferns. It surveys families, genera, and species, including those suitable for the home garden. It offers up-to-date taxonomy and detailed descriptions as well as in-depth coverage of everything from tree fern use to conservation. In recognition of the horticultural importance of tree ferns, the authors provide extensive cultivation information, including propagation, and diseases and pests.

This book is only available through print on demand. All interior art is black and white. 
About the Author
Mark F. Large's interest in fern evolution and paleobotany spans 20 years. He has authored many fern publications and acted as a botanical consultant for the popular television series Walking with Dinosaurs. He is an associate professor of botany and heads the School of Landscape and Plant Science at UNITEC Institute of Technology, Auckland, New Zealand.
Praise For Tree Ferns…
"This book contains all the technical information a plant scientist might want, combined with cultivation and conservation notes of great utility to professional growers, hobbyists, and conservationists alike." —Choice

"Magnificent." —Garden Compass

"All in all, this is an extremely well-orchestrated book and the authors have succeeded in providing a valuable product to better understand this unusual member of the plant community." —American Reference Books Annual

"This book is recommended for any horticultural or academic library." —E-Streams

"Up-to-date. . . . information on use, cultivation and conservation." —Plant Talk

"With this book I no longer have any excuse in not knowing all that one needs to know about tree ferns. . . . It is a book all landscape architects and garden designers should have, as well as all gardeners who wish to grow these great plants." —Gardening Newsletter

"Tree Ferns was not intended to be an identification manual. Its primary purpose is to stimulate interest, expand our knowledge, and bring us up to date on important findings about these elegant plants; for this, the authors are to be commended." —Pacific Horticulture

"Extensive." —San Diego Home and Garden Lifestyles

"A very pleasing book which will entrance serious undergraduate botanists and which belongs in college and university libraries, as well as the library of any pteridologist and of any gardener in warmer parts of North America." —Plant Science Bulletin

"Represents the first dedicated treatment of these fantastic plants." —Let's Talk Plants

"Even if he or she never intends to grow a tree fern, this book is an attractive and reasonably priced addition to the fern enthusiast's book shelf." —Fiddlehead Forum

"At last, an excellent book on tree ferns." —Hardy Fern Foundation Quarterly