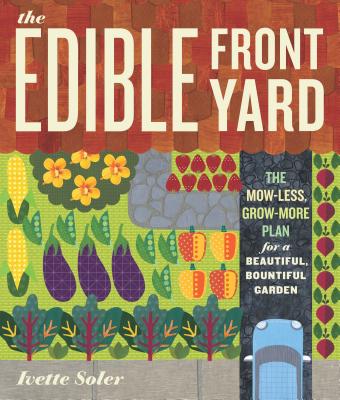 The Edible Front Yard
The Mow-Less, Grow-More Plan for a Beautiful, Bountiful Garden
Paperback

* Individual store prices may vary.
Description
"Front lawns, beware: The Germinatrix has you in her crosshairs! Ivette Soler is a welcome voice urging us to mow less and grow some food—in her uniquely fun, infectious yet informative way." —Garden Rant
People everywhere are turning patches of soil into bountiful vegetable gardens, and each spring a new crop of beginners pick up trowels and plant seeds for the first time. They're planting tomatoes in raised beds, runner beans in small plots, and strawberries in containers. But there is one place that has, until now, been woefully neglected—the front yard.
And there's good reason. The typical veggie garden, with its raised beds and plots, is not the most attractive type of garden, and favorite edible plants like tomatoes and cucumbers have a tendency to look a scraggily, even in their prime. But
The Edible Front Yard
isn't about the typical veggie garden, and author Ivette Soler is passionate about putting edibles up front and creating edible gardens with curb appeal.
Soler offers step-by-step instructions for converting all or part of a lawn into an edible paradise; specific guidelines for selecting and planting the most attractive edible plants; and design advice and plans for the best placement and for combining edibles with ornamentals in pleasing ways. Inspiring and accessible,
The Edible Front Yard
is a one-stop resource for a front-and-center edible garden that is both beautiful and bountiful year-round.
Praise For The Edible Front Yard: The Mow-Less, Grow-More Plan for a Beautiful, Bountiful Garden…
"This book is great for anyone who wants to get rid of the front lawn and grow for color, design and flavor! Packed photos and projects, this book is suited for typical urban or suburban residential plots." —Yolanda Burrell, owner of Pollinate Farm and Garden Supply

"I love Ivette's infectious enthusiasm for gardening, which is matched only by her deep knowledge of horticulture. Few people can make me laugh so hard and think so hard in the same sentence." —Stephen Orr

"A useful and inspiring volume." —Booklist

"A lively new book. . . . Soler takes you through a wide selection of suggested varieties of vegetables, fruits and herbs that are as beautiful as any rose bush." —Martha Stewart Living

"An enticing introduction to growing food beautifully. . . . a timely, handsome guide." —Publishers Weekly

"A good source of ideas for gardeners trying to imagine the edible front yard that might one day be theirs." —Washington Gardener

"Proves that kitchen gardens can be both pretty and productive. Shows how to grow veggies in front so beautifully that neighbors won't object." —Sunset

"Don't just plant flowers this gardening season; feed your family, too!" —AARP Magazine

"Lush and lovely." —Apartment Therapy

"Heavily-laden with quality photography that is as inspiring as the text." —Gardening By The Book
 
"Addresses the concerns that gardeners of all kinds have, when considering making the change from grass to groceries." —Horticulture

"It's inspiring to see photos of how much more interesting our front yards could be." —Milwaukee Journal Sentinel

"Empowers readers with the knowledge to successfully transform their yards." —Portland Book Review
Timber Press, 9781604691993, 216pp.
Publication Date: February 23, 2011
About the Author
Ivette Soler is a garden designer and writer living in Los Angeles, California. Her plant design work for Elysian Landscapes, and her own personal garden, have appeared in magazines such as Metropolitan Home, Sunset, and House and Garden, as well as in several books. Soler's garden writing has been featured in Garden Design, Cottage Living, and Budget Living, and she was the resident gardening expert on NBC's The Bonnie Hunt Show. See her popular gardening blog, The Germinatrix, at thegerminatrix.com.