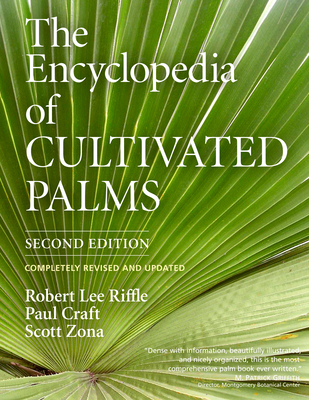 The Encyclopedia of Cultivated Palms
Hardcover

* Individual store prices may vary.
Description
The Encyclopedia of Cultivated Palms is the definitive account of all palms that can be grown for ornamental and economic use. Palms are often underutilized as a result of their unfamiliarity—even to tropical gardeners. To help introduce these valuable plants to a new audience, the authors have exhaustively documented every genus in the palm family.
825 species are described in detail, including cold hardiness, water needs, height, and any special requirements. Generously illustrated with more than 900 photos, including photos of several palm species that have never before appeared in a general encyclopedia, The Encyclopedia of Cultivated Palms is as valuable as an identification guide as it is a practical handbook. Interesting snippets of history, ethnobotany, and biology inform the text and make this a lively catalog of these remarkable plants.
Praise For The Encyclopedia of Cultivated Palms…
"Gallery of full-color plates illustrates precise species characteristics, while the book's second half offers descriptive text organized by alphabetized genus and species." —Library Journal

​"Recommended for most large public and academic libraries, especially where there is an interest in horticulture." —Booklist

"An exciting way for plant lovers entranced by palms to learn about the range of species grown in gardens." —The Sarasota Herald-Tribune
Timber Press, 9781604692051, 520pp.
Publication Date: June 19, 2012
About the Author
Robert Lee Riffle (1940–2006) was an internationally recognized authority on palms and tropical plants. His landmark book, The Tropical Look: An Encyclopedia of Dramatic Landscape Plants (1998), won an American Horticultural Society Book Award, as did An Encyclopedia of Cultivated Palms (2003), which he co-wrote with Paul Craft. For 25 years Bob was a strong presence online, answering questions and encouraging gardeners in their endeavors via postings on garden and plant message boards. He generously shared his extensive knowledge gently and with wit as the moderator of the International Palm Society's active PalmTalk message board. Bob was an accomplished pianist, a gifted photographer, and an enthusiastic film buff. He had finished writing the manuscript for the Timber Press Pocket Guide to Palms when he passed away unexpectedly.
Paul Craft trained as a chemist and is vice president of the International Palm Society. A resident of Florida, he was the founding president of the Palm Beach Palm and Cycad Society and also a palm nurseryman. He is currently active in efforts to promote palm conservation.
Scott Zona grew up among the palms of South Florida and was smitten by them at an early age. For nearly 15 years, he was the palm biologist for Fairchild Tropical Botanic Garden in Miami. He has made field collections of palms from throughout the world and completed several important taxonomic monographs of ornamental palms. He is currently the curator of the Wertheim Conservatory at Florida International University.
Author of nearly 100 articles on palms, both popular and technical, Zona is also the co-editor of PALMS, the quarterly journal of the International Palm Society, an organization to which he has belonged for more than 30 years. He teaches and lectures all over the world about tropical plants, and grows palms and other tropical plants at his home in Miami.