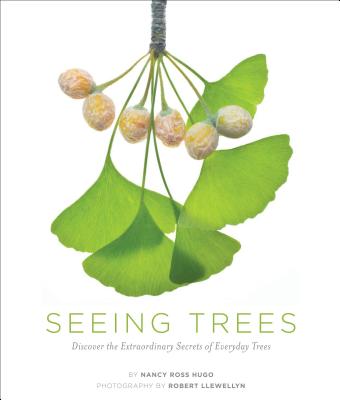 Seeing Trees (Hardcover)
Discover the Extraordinary Secrets of Everyday Trees (Seeing Series)
Timber Press, 9781604692198, 245pp.
Publication Date: August 16, 2011
* Individual store prices may vary.
Description
Have you ever looked at a tree? That may sound like a silly question, but there is so much more to notice about a tree than first meets the eye. Seeing Trees celebrates seldom seen but easily observable tree traits and invites you to watch trees with the same care and sensitivity that birdwatchers watch birds. Many people, for example, are surprised to learn that oaks and maples have flowers, much less flowers that are astonishingly beautiful when viewed up close.

Focusing on widely grown trees, this captivating book describes the rewards of careful and regular tree viewing, outlines strategies for improving your observations, and describes some of the most visually interesting tree structures, including leaves, flowers, buds, leaf scars, twigs, and bark. In-depth profiles of ten familiar species—including such beloved trees as white oak, southern magnolia, white pine, and tulip poplar—show you how to recognize and understand many of their most compelling (but usually overlooked) physical features.
About the Author
Nancy Ross Hugo writes about natural history, gardening, and floral as garden columnist for the Richmond Times-Dispatch and education manager of the Lewis Ginter Botanical Garden. For more information about Ross Hugo, her lecture schedule, and her current projects, visit nancyrosshugo.com or windowsillarranging.blogspot.com.
Robert Llewellyn's photographs have been featured in major art exhibits, and more than thirty books currently in print. His book, Empires of the Forest: Jamestown and the Beginning of America, won five national awards in nonfiction and photography, and Washington: The Capital was an official diplomatic gift of the White House and State Department.
Praise For Seeing Trees: Discover the Extraordinary Secrets of Everyday Trees (Seeing Series)…
"My favorite new book this season is Seeing Trees. . . . This book is made for us nearsighted gardeners, who long ago learned the thrill of peering at plants." —The New York Times

"This fascinating celebration of trees will delight gardeners, botanists, students of natural history, and nature photographers." —Library Journal

"The authors have brought the level of observation to new heights." —The Washington Post

"Seek out the Seeing series, and prepare for your breath to be taken away." —NYBG's Plant Talk

"Vivid, fascinating botanical biographies." —Reader's Digest

"The resulting images are full of detail." —Outdoor Photographer Magazine

"Beautifully produced and photographed. I highly recommend this book to anyone who would like to know more about this fascinating group of plants, both in the wild or in your backyard." —Martha Stewart Living

"You can't help but be bowled over by the beauty at play in the science." —Chicago Tribune

"A botanical masterpiece." —Horticulture Magazine

"The book to change us all into unabashed tree worshippers." —Seattle Times

"A splendid book." —Philadelphia Inquirer

"You'll be dazzled." —The Cleveland Plain Dealer
Book Videos