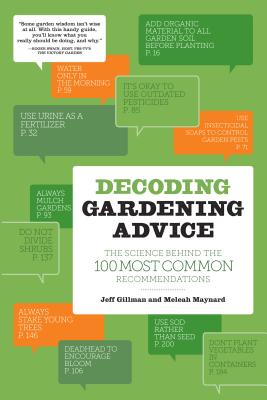 Decoding Gardening Advice
The Science Behind the 100 Most Common Recommendations
Paperback

* Individual store prices may vary.
Description
Covering more than 100 universal gardening "dos and don'ts," Decoding Gardening Advice is the first book to provide gardeners with the real answers. Jeff Gillman, the bestselling author of The Truth About Garden Remedies, and Meleah Maynard back up every good recommendation with sound horticultural and botanical science. Decoding Gardening Advice is the first and only hard-hitting, evidence-based book that every gardener needs for definitive advice on everything from bulbs, annuals, and perennials to edibles, trees, and soil care.
Praise For Decoding Gardening Advice: The Science Behind the 100 Most Common Recommendations…
"A well-researched, indispensable resource that belongs on every gardening shelf." —Booklist

"Gillman and Maynard's fun-to-read, entertaining guide to the scientific reasons behind each practice makes this a valuable guide for gardeners." —Publishers Weekly

"Helpful for novice and experienced gardeners alike, the practical advice here is backed up with interesting popular science and delivered in an engaging format." —Library Journal

"If you've ever questioned a commonly repeated gardening tip and considered submitting it to Mythbusters for analysis, don't bother. Just buy this book." —Dallas Morning News

"This easy-to-read paperback is kind of like a Consumer Reports rundown on garden tips." —Harrisburg Patriot-News

"Looks at more than 100 of the so called dos and don'ts of gardening, and backs up their recommendations with hands-on research." —Halifax Chronicle Herald

"Gillman's and Maynard's responses show that the authors have done the research and also have personal garden experience." —Heartland Gardening

"A handy reference for gardeners to be familiar with." —Juneau Empire

"Bogus information spreads like wildfire, especially with the advent of the internet. This handy book gives you the straight scoop on what's good, what's bad and what's iffy in the world of gardening." —East Oregonian

"A fascinating, entertaining, and useful book, written in a format that makes for quick reference." —Milwaukee Journal Sentinel

"Filled with simplified explanations based on current science, this slim, precisely organized handbook is good for a cover to cover read or as a handy reference guide to dip into as needed." —San Francisco Chronicle

"This is a nuts-and-bolts book full of practical advice." —Winston-Salem Journal

 
Timber Press, 9781604692204, 224pp.
Publication Date: December 13, 2011
About the Author
Jeff Gillman is an associate professor in the department of horticultural science at the University of Minnesota, where he researches plant production and teaches courses on nursery management and pesticide use. He earned his doctorate in horticulture and a master's degree in entomology from the University of Georgia.
Meleah Maynard is a journalist, editor, and master gardener. Her work appears regularly in magazines, including The History Channel Magazine, Gardening How-To, Northern Gardener, and Midwest Home.
or
Not Currently Available for Direct Purchase