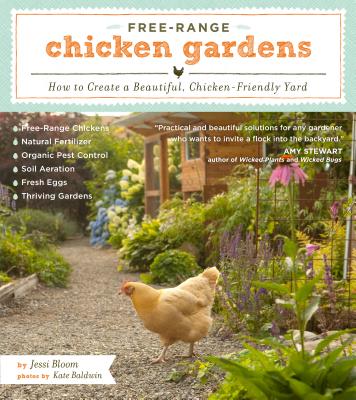 Free-Range Chicken Gardens
How to Create a Beautiful, Chicken-Friendly Yard
Paperback

* Individual store prices may vary.
Description
"If your garden fantasies involve chickens, Jessi Bloom is here to make those dreams come true." —The New York Times

Many gardeners fear chickens will peck away at their landscape. But you can keep chickens and have a beautiful garden, too! In this essential handbook, award-winning garden designer Jessi Bloom offers step-by-step instructions for creating a beautiful and functional space while maintaining a happy, healthy flock. Free-Range Chicken Gardens covers everything a gardener needs to know, from the basics of chicken keeping and creating the perfect chicken-friendly garden design to building innovative coops.
 
Praise For Free-Range Chicken Gardens: How to Create a Beautiful, Chicken-Friendly Yard…
"If your garden fantasies involve chickens, Jessi Bloom. . . is here to make those dreams come true. . . . an expert guide for the untutored." —The New York Times
 
"A manifesto on the many ways to pamper your hens—with plants for foraging and shelter, rain-fed water bowls and eco-friendly lawns." —Sunset

"A comprehensive guide from mating to medicine that will particularly help beginners. . . . Bloom makes a persuasive case." —Publishers Weekly
"Numerous illustrations, full-color photos, charts and tables, garden layouts, and useful tips. . . . a wealth of practical advice." —Booklist

"Exquisitely produced and artfully photographed." —San Francisco Chronicle

"Bloom's obvious enthusiasm for good design and for her birds will inspire both novice and experienced chicken owners to create a garden space for hens and humans to enjoy." —American Gardener 

"Complete with gorgeous photos, diagrams, plans, and a very well written and easy to understand approach, you will want to get your hands upon this book if you have ever dreamed of incorporating chickens into your lifestyle." —Small Town Living

"A great basic guide for first-time chicken owners and chicken owner wannabes." —Horticulture
 
"The only book I have seen that tells you exactly how you can have your chickens AND your garden too." —Living Homegrown
 
"Solves the dilemma of having free-range chickens and a vegetable garden." —The Oregonian

"Provides a good overview on coop building styles and considerations, very basic chicken care info, do-grow/don't-grow plant lists for the chicken garden and lots and lots of gorgeous inspirational pictures." —NW Edible
 
"I've had chickens for four years and I wish that I could have had Jessi Bloom's new book in the beginning." —Diggin Food
Timber Press, 9781604692372, 224pp.
Publication Date: January 3, 2012
About the Author
Jessi Bloom is a best-selling author, award-winning ecological landscape designer, and speaker. She owns N.W. Bloom EcoLogical Services, based in the Pacific Northwest, which is known as an innovator and leader in the field of permaculture, sustainable landscape design, construction, and land management. Her work has been recognized by government agencies and industry organizations and makes headlines in national media. She lives near Seattle with her two sons on their permaculture homestead, which is full of functional gardens and rescue animals.
Kate Baldwin is a food and lifestyle photographer in Seattle, Washington, whose work appears frequently in advertisements, magazines, and books, and can be seen at www.katebaldwinphotography.com.